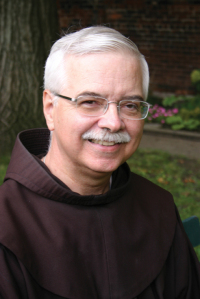 The Franciscan Sisters of Little Falls invite you to join them for a retreat entitled, Becoming Saints, Becoming Free, to be held Monday-Friday, January 15-19, 2018, at St. Francis Convent, Little Falls.
Father Pat McCloskey, OFM, presenter, explains that saints are people moving toward the freedom that God intended. Thomas of Celano said that St. Francis of Assisi seemed to be "a man from another world." His inner freedom explains that perception and encourages us to grow in that same freedom. Sin always presents itself as a shortcut to greater freedom but yields only a dead-end result. Retreat presentations will focus on what helps us to live in this freedom as well as identify temptations that entice us to create alternatives to that freedom. Father McCloskey has been a priest for 36 years and is the Franciscan editor of the
St. Anthony Messenger
magazine as well as other publications. He is an author of numerous books, including his most recent,
Ask a Franciscan: Answers to Catholic Questions.
For more information or to register by January 4, 2018, contact the Franciscan Life Center at (320)632-0680 or email: franciscanlife@fslf.org;
www.fslf.org
.