Sister Helen (Mary William) Hassler,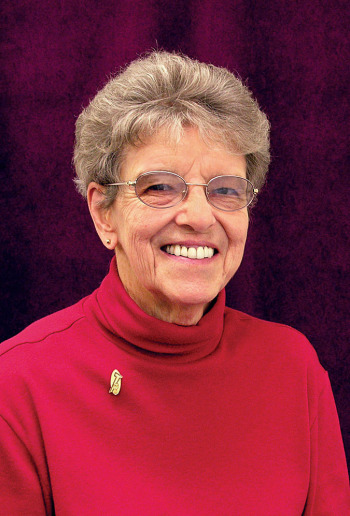 Helen was born on December 26, 1933, in Perham, Minn. She was the youngest of five children born to the late Eugene and Ina (Clark) Hassler. As a child, Helen was interested in God's creation. She attended District #32, a one-room schoolhouse. Helen received her secondary education at Perham High School. Besides classes, she was involved in band, speech and 4-H work. She graduated in 1951 and began nurses' training at St. Gabriel's School of Nursing in Little Falls.
Helen's aunt, who was a Benedictine Sister, influenced Helen toward religious life through the letters she wrote to the Hassler family. The Franciscan Sisters at St. James Hospital, Perham, and at St. Gabriel's Hospital, Little Falls, were other sources of inspiration to her. She was accepted as a Franciscan Sister on January 6, 1952. On entering the Novitiate, she was given the religious name, Sister Mary William. She made her final vows on August 12, 1957. Later she returned to her baptismal name of Helen. She was a Franciscan Sister for 65 years.
Her nursing ministry involved both staff and supervisory positions in a number of hospitals in various parts of the country. Sister Helen loved learning and further studies in scripture and spirituality, and a 30-day Ignatian Retreat led her to pastoral ministry and spiritual direction. In all her ministries, including Community Leadership, respect for the human person was paramount. She herself said, "I hope the legacy I am leaving for future generations is respect for the human person. My life journey has been one from head to heart."
Sister Helen put high value on prayer, simplicity and person. She was a deep and reverent thinker and had a welcoming personality. On the occasion of her 60th Jubilee, Helen said, "Words are inadequate to express my gratitude to God and to all who made my life's journey possible."
Survivors include a brother Joseph and his wife Loris of Minneapolis, nieces and nephews and her Franciscan community. Sister Helen was preceded in death by siblings: Elizabeth Mary, Mary Etta, Rosemary Karsnia and Eugene.
A Franciscan prayer service will be held at 7 p.m. on Thursday, October 26 at St. Francis Convent. A Mass of Christian Burial will take place on Friday, October 27, at 3 p.m. with visitation from 1 p.m. until the time of the funeral. Arrangements are by Shelley Funeral Chapel, Little Falls.
Donations to Franciscan Sisters Ministries preferred.