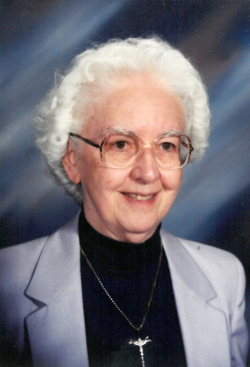 Alice was born on March 29, 1921, in Perham, Minn. She was the second of eight children born to Peter and Anna (Delaney) Doll. Peter and Anna taught their children by word and example to pray and live a life of faith. The family lived on a farm near Perham, which had been handed down through three generations of Dolls. Alice attended grade and high school in Perham and on her graduation day knew she would become a Franciscan Sister. However, she delayed her entrance for two years in order to work and help support the family. She was accepted as a Franciscan Sister of Little Falls, Minnesota, on August 12, 1942. On entering the novitiate she received the name Sister Mary James. She made her final vows on August 12, 1947. She was a Franciscan Sister for 75 years.
Throughout her life Sister Alice was a model of a dedicated religious woman and a competent and effective professional. Her positons as a Vocation director and Juniorate director were rewarding years for her as she helped many young women discern their religious vocation. Her artistic ability enhanced all her varied ministries. Sister Alice saw her oil paintings as an expression of her contemplation. When the new St. Otto's Care Center was built, she was commissioned to do 25 oil paintings, some of which were portraits of residents.
Her first teaching experience lasted for 17 years at St. Francis High School where she taught religion, science, Latin and art. She left that position to become a director of Religious Education at Morris, Minn. This was the beginning of many years serving parishes and the Diocese of St. Cloud in developing faith formation programs, training catechists, and encouraging pastors in parishes to support religious education. When she began her diocesan ministry, only 15 parishes had a religious education director, while at the time of her retirement, 74 parishes had developed religious education programs. She was widely recognized for her accomplishments and was included in 12 different issues of
Who's Who in America.
Active in her retirement years, Sister Alice served as the spiritual assistant to the Secular Franciscans in St. Cloud. She also remained involved in ministry at Holy Spirit Parish in St. Cloud and contributed to the writing of the history of the parish. In 2011, due to failing health, she returned to St. Francis Convent.
Sister Alice was preceded in death by her parents and her brothers Joseph and Rev. William P. Doll. Survivors include brothers Leo, Francis (Kay) and Patrick (Ellen), Perham, and sisters Margaret Huebsch (James), Perham, Mary Wigginton, Fargo, N.Dak: nieces and nephews and her Franciscan Community.
A wake will held for Sister Alice on August 30, 2017. A Mass of Christian Burial will be celebrated on August 31, 2017, at St. Francis Convent.