Elizabeth Rydeen, CRD
On June 16, sisters were treated to Youth in Theology and Ministry (YTM) presentations. YTM is a two-year program where high school students spend two weeks at St. John's School of Theology. They attend classes in the morning with options that include studying the prophets, race and dignity, women and theology. There's field experience in the afternoons. The motherhouse was one of four sites for this year's presentations.
Observing that his peers did not really understand the meaning of confirmation, Ben Manning designed a confirmation retreat to bring meaning to the process and help young people grow stronger in their faith. Felipe Ariza, seeing the lack of interest and participation from the youth of his parish, created Grupo de Esperanza (Group of Hope) and brought the feast of Our Lady of Guadalupe and the Stations of the Cross to life with drama—written, directed and acted out by youth. Felipe is a member of Sacred Heart Parish in St. Paul, where many of our sisters have served.
Three of the presenters, Kylee Hendrickson, Jennifer Becker and Josh Griffi n, from North Dakota, organized activities based on the Corporal Acts of Mercy. They held hunger banquets, food and clothing drives, visited the sick, brought the Word to troubled teens, worked at a homeless shelter and prayed outside an abortion clinic.
Former Franciscan Community Volunteer Kyle Lamb and Kevin Ekstrom served as counselors. The quality of the curriculum at St. John's University together with young adults as counselors make for a strong program. These young people are not just the future of the church, they are the church today!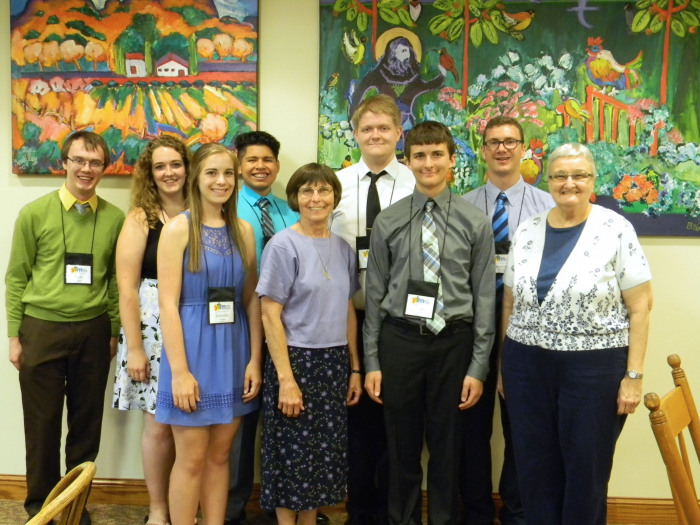 Sisters who were on hand for the YTM presentations were impressed by this group of faith-filled young people. Pictured: Kyle Lamb (counselor), Kylee Hendrickson, Jennifer Becker, Felipe Ariza, Sister Ange Mayers, Ben Manning, Josh Griffi n, Kevin Ekstrom (counselor) and Sister Gloria Haider.
(photo by Elizabeth Rydeen)