Sister Antonia (Tonie) Rausch passed away June 17, 2017. May she rest in peace.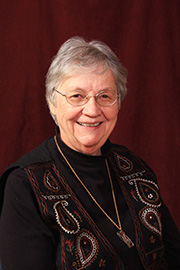 Margaret Antonia was born on Easter Sunday, April 16, 1933, in Ortonville, Minn. From her earliest days she was known as Tonie. She was the eleventh of 14 children born to the late Val and Katherine (Holthaus) Rausch. Tonie grew up near lovely Big Stone Lake in South Dakota. She attended the local public school where most of her classmates were Protestant. From that experience, Tonie learned to be open and respectful toward all religions. It was through her close relationship with her younger sister, Betty Ann, afflicted with Down Syndrome, that she learned to relate with sensitivity to the less fortunate.
Tonie loved to play school, teaching her younger sisters, nieces and nephews. The enjoyment of this early teaching experience stayed with her as she taught at all levels throughout her life. Tonie attended St. Francis High School in Little Falls, Minn. After graduation in 1951, she was accepted as a Franciscan Sister and given the name Sister Mary Karen. She was a Franciscan Sister for 65 years.
Her teaching experience began in the local diocesan grade schools. Sister Karen spent quality years teaching American History and Art Studies at St. Francis High School. She was a gifted and creative teacher, always challenging her students to open their minds to new and innovative ideas. When the school closed, she, with much enthusiasm, opened the Office for Justice and Peace for the Franciscan Sisters, tasting the first challenges of many years of justice work in many different milieus. Moving on to a new mission in west Tennessee, Sister Tonie prepared herself in community organizing, applying it in the six counties in which she served. She also taught in the local Literacy Program as a Vista Volunteer.
In 1986, Sister Tonie was missioned to Tanzania in East Africa, where her efforts were in teaching and helping to set up and organize programs in three different areas: Chanjale Seminary in Samé diocese, Cheju Preparatory School on Zanzibar Island and Enkigarett School in a Maasai village north of Arusha. Living in this wide variety of cultures, Sister Tonie had ample opportunity to witness the many ways in which people follow the gospel message.
In 2003, Sister Tonie returned to Minnesota ready to utilize all her experiences in new ministries. The arrival in St. Cloud of significant numbers of new immigrants and refugees, many from distressed African countries, provided an outlet for her creative energies. She moved quickly into teaching English as a second language in the public school system, moving onward to founding a new organization, Hands across the World. In partnership with Brianda Cediel, the organization developed a unique program offering instruction in many fields, according to the needs of the students. To this day, the school flourishes with 60-100 adult students attending a variety of classes.
Sister Tonie was a down-to-earth person who had a reverent love for all of God's people, especially the poor and oppressed and reached out to them in whatever way she was able. She served in many different capacities, including elementary and secondary teacher, Leadership in her Franciscan community, social justice coordinator, rural life director, food co-op coordinator, missionary, community organizer, jail ministry and promoter of inter-religious dialogue with the Muslim community. She spent much energy searching for ways to create a more livable and peaceful environment for all creation, fulfilling her prophetic commitment on her entrance to the Franciscan Sisters, "I want to make the world a better place!"
Sister Tonie was preceded in death by her parents and her siblings: Armand, Eugene, Norbert, Rev. Ervin, Betty Ann, Severine, Florentine, Lorraine, Herman, and Jerome. Survivors include siblings: Sister Rose Mae, Josie (George) Vania, Paul (Liane); sisters-in-law: Jane, Harriet and Shanti; nieces and nephews and her Franciscan Community.
Services for Sister Tonie will be held at St. Francis Convent, Little Falls.
Visitation: Friday, July 14, 4:00-8:00 p.m. with Franciscan Prayer Service at 7:00 p.m.
Visitation: Saturday, July 15, 8:30-11:00 a.m. with Mass of Christian Burial at 11:00 a.m.