Associate Rick Dietz
On April 20, over 200 people attended the ELCA's Northeastern Minnesota Synod's joint Lutheran/Catholic prayer service commemorating the 500th anniversary of the start of the Reformation. The service, held at Cragun's resort in Brainerd, was titled: From Conflict to Communion, Lutheran-Catholic Common Commemoration of the Reformation in 2017.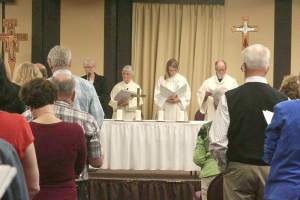 The organizing team for this event invited our Franciscan Sisters to participate. Our group of Franciscans were the main Catholic contingent and asked to lead major parts of the service. Sister Loretta Denfeld was presider #2, Sisters Cordy Korkowski and Maurita Bernet were readers #1 and #2, reading several pieces. Sister Ruth Lentner read one of the commitment statements from the document From Conflict to Communion as well as half of the prayers of petition. Sisters Ruth and Maurita also played guitar with synod's musicians. I was asked to bring our processional cross and carry it in procession beside a person carrying a Lutheran processional cross. Sister Jean Schwieters also attended the service. Bishop Kettler (Catholic bishop of the St. Cloud Diocese) sent a video greeting in which he said he was sad he could not attend the service due to a prior engagement but wanted to acknowledge and support the prayer service. In the video he mentioned several occasions in which our Franciscan Sisters and Associates joined with Lutherans to help alleviate hunger and help others with housing needs.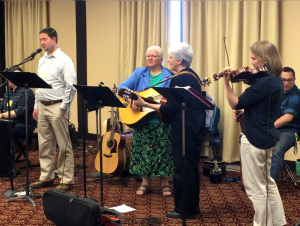 The service was well received. It was interesting to see several people talking with the sisters after the service and mentioning several friends that they have in common with the sisters. There was even a woman (Tammy) who shared with Sister Maurita that she had been in Nicaragua and remembered Sisters Carmen Barsody, Michelle L'Allier, Carolyn Law and Joanne Klinert. One of the organizers, Pastor Jake Dyrhaug, from First Lutheran Church here in Little Falls, and I spoke a few days after the event. He mentioned that he received a lot of positive feedback and thanked us again for being part of the service. He thanked me for my efforts in facilitating Bishops Kettler's video greeting/remarks and said several people mentioned to him how good it was to have Bishop Kettler acknowledge and support the joint prayer service. I believe this event will open doors for more collaborative events.