"Has it really been two years"? This was the most often heard sentence in Kane Lounge on May 6th. The members of the Engaging Franciscan Spirituality cohort were gathered for their concluding retreat. This inaugural cohort had their first session on September 26, 2015, meeting one Saturday a month (with only July 2016 off).
Each session of the program focused on an aspect of Franciscan spirituality. Topics noted in the program evaluations as some of the most inspiring and enlightening were: the Franciscan emphasis on the Trinity; the Incarnation; the four values or expressions of the Franciscan Third Order charism (Continual Conversion, Humility, Poverty and Contemplation). Comments included: "I always felt engaged, enthused and left energized by our time together. I found the materials to be helpful, informative, challenging and relevant…";"I would do this again in a heartbeat!!"; "The entire program was a feast, a Franciscan Feast – a wealth of knowledge, information, experiences—All inspiring!"; "Thank-you all so much for companioning us all on this life-changing journey. It has been an incredible experience and I have been changed forever."
This program was the desire and dream of several sisters (especially Rose Mae Rausch and Maristelle Schanen) as well as myself and Geri Dietz. It was a dream come true to see these incredible people finish the course. Thanks to all who formed the Franciscan Outreach Team with me, who helped make this program come to fruition: Geri Dietz, and Sisters Rose Mae Rausch, Michelle L'Allier, Elise Saggau, and Gloria Haider.
While we are overjoyed that the inaugural cohort has completed the program, our work is not done. We will begin again with a new cohort in September. And many of the members of our first cohort want to keep going. So we are planning for a "phase two" program just for them, entitled Engaging Franciscan Spirituality: Still Engaged.
Thank you to all the sisters who have helped and encouraged us during this two-year program. As a special note, I'd like to remember the times our committee was hosted by Sister Carolita Mauer at her apartment's "party" room. I think she would be happy with the results from our meetings.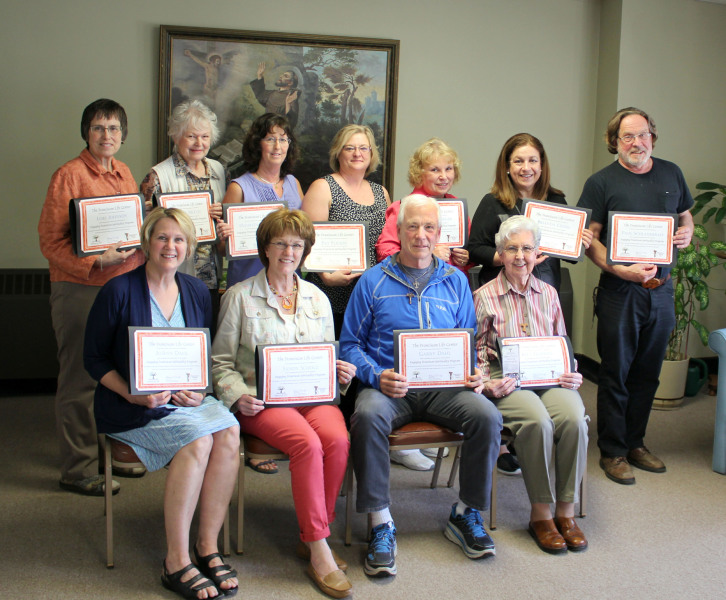 Pictured here are the participants with their certificates of completion. Front row: JoAnn Dahl, Sandy Scholz, Garry Dahl and Rita Feddema; back row: Lori Johnson, Nancy McCoy, Maureen Spanier, Pat Flicker, Kathie Pflueger, Brianda Cediel and Paul Schlauderaff (not pictured: Debra Galvez).