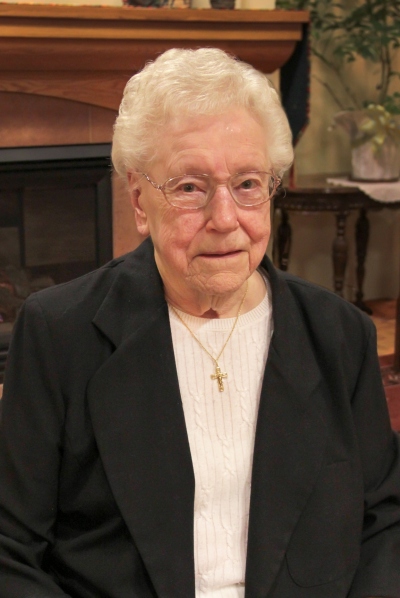 Sister Mary Vianney Weier, 92, died on April 4, 2017, at St. Francis Convent in Little Falls, Minn.
On the feast of Saint Francis, October 4, 1924, Helene was born at St. Joseph's Hospital, Dodgeville, Wis., to Francis "Frank" and Nora (Coffey) Weier, the seventh of 12 children. When she was baptized, she was given the name Helene Frances. From her birth, she seemed destined to be a Franciscan sister; born on the Feast of Saint Francis, in a hospital owned by the Franciscan Sisters of Little Falls, Minn., and given the name, Helene Frances. Her parents were hardworking farmers of German-Irish decent, with a deep faith they imparted to their children. "God will provide," was the phrase often heard in the Weier home. The Weiers had a meadow that became the neighborhood baseball diamond. Their home was the center of activity for relatives, friends and neighbors.
Helene attended a one-room school named the Weier School, as it was built on their property. She spent one year at the Dodgeville High School and the remaining three years at St. Francis High School, Little Falls, Minn. Sister Mary Benedict Bock at St. Joseph's Hospital had a great influence on the Weier family, encouraging six of the Weier girls to attend St. Francis.
Inspired by her older sisters, Sisters Lenore and Camillus, Helene entered St. Francis Convent in her senior year. On entering the novitiate, Helene was given the name Sister Mary Vianney. She made her final vows on August 12, 1947. She was a Franciscan Sister for 74 years. Other siblings also entered the Franciscan Order: Sister Elizabeth (Urban) entered St. Francis Convent, Helen became a Poor Clare and one brother, Thomas, became a Capuchin Friar.
Sister Vianney became a registered nurse and later a surgical nurse. She ministered as a supervisor in the operating room, medical floor and as a night nurse. She enjoyed the many years she served the sick and dying always looking out for the good of the patient. Beginning in 1989, Sister Vianney moved into pastoral care. She felt it was a deep privilege to be present at the time of a patient's death. She experienced a deep satisfaction when her patients recovered and expressed appreciation for the care they received. Sister Vianney continued her pastoral care as she ministered to the elderly sisters at St. Francis Convent. She was known for her compassion and understanding of each individual sister's needs.
Listening to classical music and reading were favorite pastimes. She especially enjoyed visits to her family in Wisconsin accompanied by her good friend, Sister Phyllis Hennek. In her retirement, she spent much time praying for and fostering relationships with the staff of the Community Relations Department and the Office for Associates. At the time of her 50th Jubilee, she paraphrased Lamentations, "The favors of the Lord are not exhausted. God's mercies are not spent. They are renewed each morning, so great is God's faithfulness." A favorite saying of hers was, "Make it a good day!"
Sister Vianney was preceded in death by her parents, her siblings: Father Thomas, Leo, Sister Lenore, Sister Camillus, Marie Zweifel, Gerald, Benedict, Sister Elizabeth, Vincent and Lawrence. Surviving her is Sister Mary Helen, OSC, of Minneapolis, nieces and nephews and her Franciscan Community.
A wake will be held for Sister Vianney on April 7, 4-8 p.m. with a prayer service at 7 p.m. A Mass of Resurrection will be celebrated on April 8, at 1:30 p.m. with visitations before from 9 a.m.-1:30 p.m.