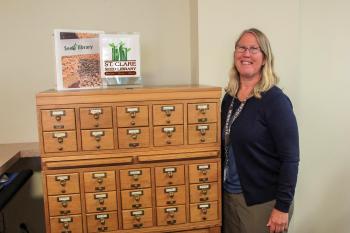 Libraries exist to make books available, at no cost, for borrowers to read, enjoy and return for others to repeat the reading and learning cycle. Borrowers at St. Clare Library now have the added opportunity to "check out" flower and vegetable seeds, plant, grow and produce–and then harvest the seeds to return to St. Clare Seed Library's Seed Exchange for others to repeat the growing cycle.
Elise Carey, library coordinator at St. Clare Library, Little Falls, stated, "The purpose for our seed library is to provide an alternative to genetically modified seeds, increase biodiversity and plant resilience. It also encourages food literacy and education, increases knowledge of gardening and horticulture, helps with sustainability and promotes healthy living and eating."
If someone wants to contribute seeds from the garden, or perhaps some from a family's heritage, Carey will be delighted to receive them. The only seeds not accepted will be hybrid seeds which change in composition after the first year's growth. Stop by and peruse the varieties of flowers and vegetable seeds now available and get them started for planting in your garden this spring.
St. Clare Library, located at St. Francis Convent, 116 8th Avenue SE, Little Falls, is open to the public Tuesday-Thursday, 9 a.m. – 3 p.m., for books and seeds. Visitors may enter the library through the west entrance of St. Francis Convent. For more information call (320)632-0634 or email
ecarey@fslf.org
. St. Clare Library is a ministry of the Franciscan Sisters of Little Falls.