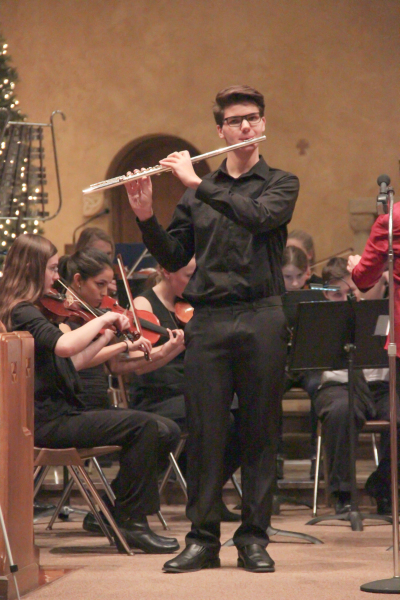 Isaac Olson, a flute student at St. Francis Music Center, Little Falls, was named one of the Youth Concerto Competition winners for the Heartland Symphony Orchestra. Students from throughout central Minnesota were invited to audition before a panel of judges.
Isaac currently studies flute at the Music Center under Kevin Stueven, who has been Isaac's teacher since he was 10-years old. Isaac is now a sophomore at the Little Falls Community High School and is involved in Jazz I and II, Concert Band, Wind Symphony and the school's flute choir. At the Music Center, Isaac has also participated in URock and performed with the St. Francis Community Chorale and the Concert Orchestra.
"Isaac was a featured soloist with the St. Francis Concert Orchestra in December. What a joy to work with him!" said Bobbi French, director of the strings program at the Music Center. "His performance talent on flute was immediately evident. I am thrilled that the Heartland Symphony Orchestra has also recognized Isaac's ability by naming him one of this year's concerto competition winners."
When asked for a few words about Isaac, Jonathan Laflamme, director of bands at the Little Falls Community High School responded: "Isaac Olson is one of the most accomplished young musicians that I have ever encountered in 17 years of teaching music. Isaac recently asked me to push him harder as a student; this is the first time I have been asked this. Furthermore, what is extremely remarkable, is the humility under which Isaac plays, relates and works with other students and adults. Isaac is the real deal. This gem of a person comprised of an awesome blend of courage, talent, perseverance, desire for technical rigor, humility and a 'big-picture' disposition who accomplishes small or enormous endeavors with resplendent aplomb. I know his love for music will be contagious to everyone in the orchestra and in the audience. Congratulations Isaac!"
Isaac will be performing at the Charles Martin Auditorium in Little Falls on April 1 at 7:30 p.m., with the Heartland Symphony Orchestra. He will also perform with the orchestra in Pequot Lakes on March 31 and in Brainerd on April 2. For more information on tickets contact the Heartland Symphony Orchestra at www.heartlandsymphony.com.
Isaac is the son of Jean Anderson, Steve Olson and the stepson of Brian Anderson.
Photo Identification:
Isaac Olson performs during a concert in Sacred Heart Chapel, St. Francis Convent, Little Falls.