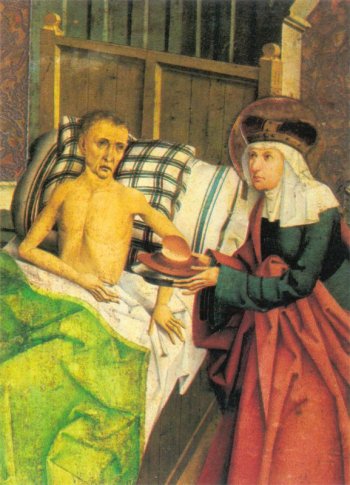 March 2nd is the feast of St. Agnes of Prague (also known as Agnes of Bohemia)
Agnes was born in the year 1200 to the king and queen of Bohemia. As was the case for children of royalty she we well educated (by Cistercian nuns). At the age of eight she was betrothed to Emperor Fredrick II's son Henry who was ten years old and recently crowned King of Germany. Long story short – after six years the proposed marriage contract is cancelled, Agnes's father looks for other potential husbands, and finds out that Emperor Frederick II wants to marry her. Agnes (tired of being a political pawn) says no to any marriage.
She devoted her life to prayer and spiritual works. She founded the Hospital of St. Francis in Prague around the year 1232 and founded two friaries for Franciscan Friars. It is through these Friars that Agnes learns of Clare in Assisi and her Poor Clare community.
Agnes writes letters to Clare in Assisi inquiring about starting a Poor Clare monastery in Prague. We don't have any copies of Agnes' letters but we have copies of four letters in which Clare responds to Agnes' letters. These four letters are some of the few documents we have from the pen of St. Clare. They are interesting letters in which Clare tries to support Agnes in her desires to found a Poor Clare community and their mutual struggles with bishops and the pope to do so.
Agnes founds the Poor Clare monastery at Prague in 1236 and she cooks and cares for lepers and paupers personally. She becomes the abbess a year later. Agnes dies in 1282 and was canonized November 12, 1989.
In 2011 The Czech state gives Agnes the official title: 'The Saint who Overthrew Communism'!
Prayer: O God, you drew Agnes away from the privileges of royalty and closer to yourself. Inspired by her generosity and prayerfulness, give us the grace to choose you over the pleasures of this world. We ask this through Jesus Christ our Lord. Amen.