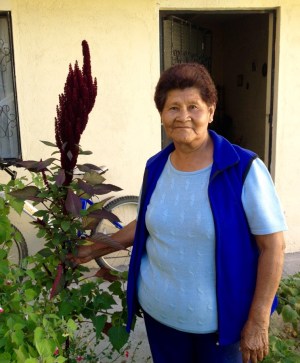 Carmen Malucín, known by everybody as Carmita, is 75 years old. She is a widow for 8 years now and lives, thanks to the "montepío" (a monthly pension), that the State pays to her as a widow. She has 5 children, 5 grandchildren and 3 great-grandchildren and lives in Puembo with her daughter, AS Indira López.
She is now an Applicant who does not miss the monthly meetings of the Franciscan community in Puembo. She encourages us with her stories and her life.
Despite her minimal income, she says that she never lacks for daily food. "God provides and always someone appears, every day, bringing potatoes, fruits, bread—there is always something on the table." Her faith is very strong and does not complain in times of scarcity. "We live the day."
Two years ago she was diagnosed with depression and her doctor asked her to daily do something she likes and avoid being alone at home. Carmita has been very obedient. On Monday, Wednesday and Friday, she attends dance therapy courses. On Tuesday, she cooks in the parish for an average of 30 elders who eat lunch every day thanks to the ministry of solidarity cooking. Thursday in the morning she serves as eucharistic minister and in the afternoon she prays in adoration before the Blessed Sacrament. On Saturday afternoons she goes with the choir to the Hacienda San Luis where Mass is celebrated. On Sunday, she rises to go to Mass as a member of another choir and then has breakfast with the parish priest. She then devotes her time to the extended family.
The people who know Carmita testify to her cheerful character and her kind way of greeting people she meets in Puembo. "I have to be a witness to God's love wherever I go," she replies.
Thank you, Verónica, for
introducing us to Carmita!
And welcome, Carmita!