Recently, Latin American Associates and Applicants were asked to reflect on and complete the following statement: "I am the Franciscan Community…." Here are some of their responses:
"...since another associate invited me to experience what this community is about."
AS Indira López, Puembo, Ecuador
"...when I attend meetings and learn more about Saint Francis and Saint Clare's life; when I have a need for prayer and the whole community, even from the United States, prays for me; when, in my day to day, I put into practice the Franciscan charism."
AS Rinna López, Guayaquil, Ecuador
"...when I manifested love, forgiveness and solidarity with my family and with my neighbor."
AS Vilma Zambrano, Durán, Ecuador
"...when I receive messages or someone responds to mine by Whatsapp or Facebook."
AS Luis González, Puembo, Ecuador
"...when others take me into account to do some activity; when they assign me responsibilities. I feel that this makes me part of the family, even though I am still an applicant."
AP Benigno Tellez, Managua, Nicaragua
"...in my daily prayer."
AS Yessenia Vallejo, Quito, Ecuador
"The newsletter reminds me of what day someone in the community celebrates his/her birthday or who has passed away. In praying for these names, I know that I am part of the community. I also really like to hug those who come monthly to meetings at my house."
AP Carmita Malucín, Puembo, Ecuador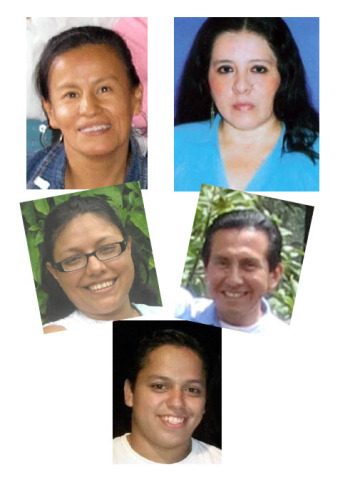 Photos, clockwise from left: ASs Indira López, Rinna López, Luis González, Vilma Zambrano, Bottom: AP Benigno Tellez. Carmita Malucin is pictured on p. 4.