The Franciscan Sisters of Little Falls, Minnesota, hosted their annual Employee Appreciation event at St. Francis Convent on Tuesday, January 24, with many of the employees and guests present for the occasion.
The highlight of the evening was the presentation of the Saint Francis Award. The Franciscan Sisters' Values Committee sponsors this annual award, given to an employee who lives and ministers the values of Saint Francis of Assisi and that of the Franciscan Sisters of Little Falls.
Amy Scholl, Human Resources director, said, "Each year the employees and sisters nominate a person for this annual award. The person they choose manifests our Franciscan values in the way they carry out their work with us.
"The values embody respect, meaning we treat each other and all of God's creation with dignity, justice and reverence; open communication, where we encourage people to express their ideas and feelings in ways that are clear, honest and direct; hospitality, where we create a comfortable, respectful environment in which people feel welcome, safe and valued; and compassion, in which we weave genuine concern and care into our interactions and seek to work together with flexibility and fairness, creating a supportive environment for all."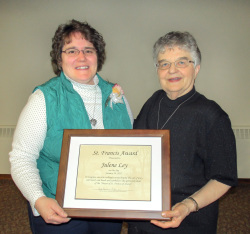 Julene Ley, director of Archives, is the Saint Francis Award recipient for 2016. The nominations described her as "always welcoming and hospitable; can tell she likes her work by the energy and manner in which the work is done; generously contributes to committee work with ideas and doing her part; incredibly thoughtful and considerate of the sisters' well-being and makes every effort to accommodate their needs; gives the opportunity for others to grow and learn new responsibilities as well asks for opinions regarding work-related issues, and then listens to what others have to say; is true and honest, sincere and humble, hardworking and dedicated to the Franciscan Sisters, their home and history."
Employed with the Franciscan Sisters since August 2002, Ley said, "I feel incredibly honored to receive the 2016 St. Francis Award! I love working for the Franciscan Sisters. They make me feel as though I am a part of their family and make my work enjoyable. The sisters treat people with unending caring and compassion and have been excellent role models for all of us. I would like to thank those who nominated me and also acknowledge all of the other individuals who were nominated for this award. I am very grateful."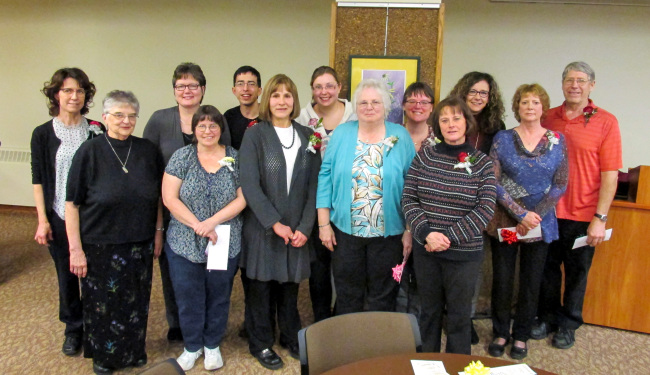 Sixteen employees were recognized for their years of service:
30 years:
Mary Rocheleau, Nutrition Services;
15 years:
Jeanne LeMieur, Finance; Danielle Motschke, Health & Wellness; 10 years: Vicky Lashinski, Environmental Services; Andrea Parker, Nutrition Services; Jean Rouland, Rehab; Tim Thomas, Environmental Services;
5 years:
Michelle Adamietz, Clare Residence; Alyce Bryniarski, Clare Residence; Lindsay Derry, Health and Wellness; Becky Fellbaum, Clare Residence; Judy Kathrein, Rehab; Joyce Marotte, Clare Residence; Carlos Ochoa, Nutrition Services; Lisa Sanoski, Technology; Cheryl Triplett, Rehab.
Click for more pictures