Rick Dietz, Franciscan Life Center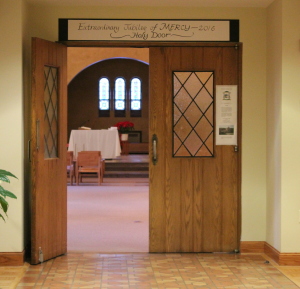 In the last edition of the Community News there was an article about the conclusion of the Year of Mercy. I wanted to pass on a few final thoughts about the special year.
We had 527 people listed on our Holy Year Pilgrim's sign-in log. I know that several people came to visit as part of the Holy Year but didn't see the sign-in log or simply chose not to write in their name. We had a number of grade school classes also come to the convent for a tour and to enter via the Holy Door. You may have read a few of their remembrances as Marcia Goff posted them in the mail room a few weeks ago. We had a few groups from different parishes come to participate in the Holy Year pilgrimage as well as a number of individuals. We had people from California, Arizona, New York and Florida come to visit our chapel. Several people talked with me about their visit and how glad they were to have made the trip. They would often talk about how beautiful our chapel is, and they loved the stained glass windows and the statues. Many described their visit as a "holy" time.
I want to thank everyone who helped make their time with us a special one. I want to specifically thank Sister Mary Obowa for sewing the Holy Year logo for the ambo frontal, Sister Tonie Rausch for designing and making the sign that hung over our holy door, Marcia Goff for coordinating the special tours, and to those who gave the tours. I also want to thank Sister Jean Schweiters, Joan Wingert and the liturgy committee for their work with the opening and closing rituals as well as providing special Year of Mercy prayers throughout the year. I also want to thank those who met our pilgrim guests and helped them find their way to the chapel. Many people told me how hospitable everyone was when they visited.
When this special holy year was concluding, I received an email from the diocesan liturgy office. They said that while the holy doors will be closed on the feast of Christ the King, they wanted to make sure that all of our pilgrimage sites do not make a formal ritual for the closing of the holy doors. They didn't want people to think that as the holy doors are closed, that the way to God's mercy would be closed also. That's why our closing ritual was simple and we didn't have anything noting the closing of the holy door. I chose the accompanying photo with one door closed and one door open to represent the closing of the Holy Year on one hand and the openness of this community to still receive visitors and that we have access to God's mercy (note that you can see the altar through the open door).
I'll close this article with a quote from Pope Francis from when he was closing the Holy Door of St. Peter's Basilica: "Even if the Holy Door closes, the true door of mercy, which is the heart of Christ, always remains open for us."