AS Alice Vogel, Little Falls, Minn.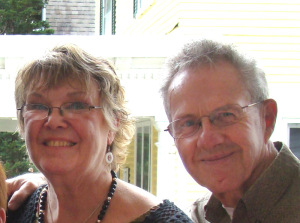 The magic day came when I retired from my favorite and final career. Our next move was to sell the house and move to a new house in Little Falls. The year was 1998.
That meant moving from our home of 34 years, leaving our faith community and a large number of good faith-filled friends. My daily prayer was that God would give us new faith-filled friends and a good faith community.
Shortly after the move up here, we reconnected with some dear Franciscan sister friends. One sat us down one day and said, "Have I got plans for you." Part of those plans included a special three-day weekend retreat. After a weekend Together Encounter Christ (TEC) retreat, we signed up to work on a Residents Encounter Christ (REC) weekend retreat at the Morrison County Jail.
That weekend was a life-changer for me. I experienced firsthand, the power of prayer, and many miracles. I remember one young man who came to the retreat; his eyes never left the floor. He had already lost custody of four of his children and was in danger of losing his wife and last child. Today, through the saving power of Jesus Christ, both he and his wife are happily together, heavily involved in a church and jail ministry. They are also listed among our new faith-filled friends.
After our first REC retreat, my husband, Jim, and I decided we wanted to do more, and we joined a small group of Christians who visit the jail every Wednesday evening for two hours. The program is called "Your Choice" and is open to both male and female inmates. It is their choice to come, and their choice to share. We do not claim to be a Bible Study, but each topic we introduce is scripture-based and pertains to all of us, both inside jail and out. We all have the opportunity to share on the topic and scripture. Through the sharing, we all get to know each other on a more personal level. This allows the inmates to see us as sinners also, and we get to love them as brothers and sisters in Christ.
God indeed answered my prayers with this group of Christian jail ministers and all the inmates. He gave me many new faith-filled friends, and friends He chose just for me.
So how has it changed me? Well, as I look forward to probably the last quarter of my life, I see every prayer of mine being answered. I have learned to accept the answer God has chosen instead of being disappointed in not getting it my way.
Be careful what you pray for! It may be a wonderful surprise!