This year's Green Fair Folk Festival will be held on Wednesday, August 3, from 4-8 p.m., on the west lawn at St. Francis Convent, Little Falls. Now in its tenth year, the Green Fair welcomed over 1,000 people in 2015.
"The Green Fair Folk Festival has become a Little Falls tradition," according to Jeff Odendahl, coordinator of the festival. "Families see it as a fun afternoon full of great activities for their children, delicious and low-cost food, and a way to learn about the environment and how to better care for our world. Plus, the musical entertainment is first class, local talent. In addition, there will again be horse-drawn wagon rides giving tours of the campus grounds. There is something for everyone!"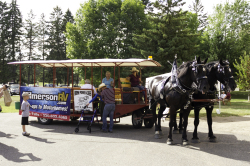 There were 60+ vendors at last year's event who sell, exhibit and share information on their green and sustainable products or services. "All vendors carry a passion of caring for the earth, wellness, and for the future of our children. It is free to be a vendor at the Green Fair; all you need to do is pre-register," Odendahl said.
"The Green Fair Folk Festival grew out of an idea to celebrate the abundance of musical talent in rural Minnesota," according to Robyn Gray, director of St. Francis Music Center. "Music is a universal language and the Franciscan Sisters have hosted an outdoor Concert for Peace since 2007, featuring rural Minnesota talent. This community concert put in motion the idea of combining a Green Fair along with the concert."
Gray added, "Care of creation is an important value of the Franciscan Sisters. Several years ago they formed a Campus Green Committee, whose mission is to educate on green awareness and to 'green' the campus in every way possible. The passion of the Green Committee members, combined with the love of music from St. Francis Music Center, blended into this unique community festival."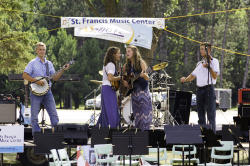 Music is a vital element of the event. Appearing on the stage will be Woodland Strings, the St. Francis Orchestras and a few surprises. New this year will be a drumming group that is inviting audience participation. Closing out will be the bands from St. Francis Music Center's URock Camp.
URock brings in students from grades 5-12 and puts them together into bands—all types of bands from rock to country to pop to gospel. The students learn all the basics of playing together in a band and what it takes to make a band work. At the end of the two weeks, all the bands perform at the Green Fair Folk Festival. "It is amazing how quickly the bands bond together and learn about listening to each other and working together. A lot of life lessons are learned in URock using music. Every person involved is respected and welcomed as a musician," said Gray.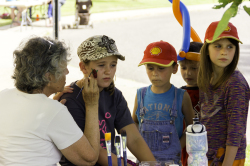 "Activities will be available for children in a safe, creative atmosphere. Kids can move around from activity to activity, make messes and create to their heart's content," Odendahl said. "All these activities are free and fun. Food vendors will provide affordable food, among which is the 25-cent Franciscan peanut butter and jelly sandwich."
The Green Fair Folk Festival is a community celebration where everyone is welcome. This evening of ecological awareness is free and open to the public and is sponsored by the Franciscan Sisters of Little Falls. For more information, contact Jeff Odendahl at (320)632-0649,
gfff@fslf.org
or visit
http://www.fslf.org/pages/GreenFair.