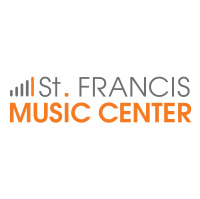 The St. Francis Music Center is excited to announce the launch of our new website! Please take a look around and you will find many pictures, videos and descriptions of all the cool things St. Francis Music Center has to offer.
Over the years we have had the great pleasure of providing high quality arts education to the rural population of central Minnesota. We are dedicated to the performing and creative arts and committed to high quality instruction, innovative programming and the sponsorship of music events.
Now it's time for a some updating for ourselves, i.e. our logo and our web presence. We currently redesigned our website using our new brand. This included making sure that you can access our site from your mobile devices and tablets.
In addition, we are engaging with some of the most popular social media sites. We encourage you to follow us on Facebook and Twitter, and to participate on those platforms.
St. Francis Music Center will still be the same awesome place it's always been and we invite you to contact us with any questions.
Make sure to check out our new website!
http://sfmusiccenter.org/