The Franciscan Sisters hosted their annual Employee Appreciation event recently with many of the 143 employees and guests present for the occasion.
The highlight of the evening was the presentation of the Saint Francis Award. The Franciscan Sisters' Values Committee sponsors this annual award, given to an employee who lives and ministers the values of Saint Francis of Assisi and that of the Franciscan Sisters of Little Falls.
Amy Scholl, human resources director, said, "Each year the employees and sisters nominate a person for this annual award. The person they choose manifests our Franciscan values in the way they carry out their work with us.
"The values embody respect, meaning we treat each other and all of God's creation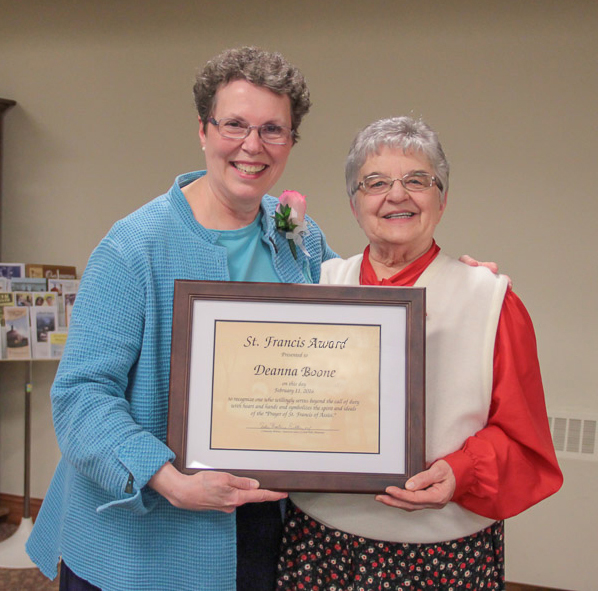 with dignity, justice and reverence; open communication, where we encourage people to express their ideas and feelings in ways that are clear, honest and direct; hospitality, where we create a comfortable, respectful environment in which people feel welcome, safe and valued; and compassion, in which we weave genuine concern and care into our interactions and seek to work together with flexibility and fairness, creating a supportive environment for all."
Deanna Boone, director of community relations, is the Saint Francis Award recipient for 2015. The nominations described her as "always lending a helping hand even when her own hands are overflowing because she believes it is better to give than receive; Francis would love her dedication to animals and the gentleness for all of creation; she listens and is always present when others need to share; she
gives up her chair when others need to sit; prays for others and always puts their needs before her own; is known to ask, 'how are you' (and means it) followed with, 'what can I do to help"
(and does it)."
Employed with the Franciscan Sisters since August 2005, Boone said, "I am humbled by this honor because I work with good, hard-working people every day. It is a pleasure to work for and with these Franciscan Sisters and my fellow employees who all share the same values." She added, "My wish would be that everyone could be as blessed as I have been. I work in an environment where we daily use our talents for the betterment of the sisters and their ministries and where our personal spiritual growth is encouraged and affirmed. All of this is a gift beyond measure and I hope to grow into deserving this fine honor."
Twenty-two employees were recognized for their years of service: 25 years: Tomas Ochoa, environmental services; 20 years: Kim Lind, Clare Residence, and Barb Ringwelski, nutrition services; 15 years: Jan Everson, rehab; Liz Rydeen, community relations and Amber Sobiech, health and recreation; 10 years: Cheryl Aswegan, activities; Deanna Boone, community relations; Sandra Brisk, health and recreation; Kate Festler, nutrition services; Bob Mueller, health and recreation; Becky Throener, nutrition services, and David Waldoch, Clare Residence; 5 years: Cheryl Burnett, Clare Residence; Roberta Gross, Clare Residence; Desiree Kircher, Clare Residence; Aimee Kruchten, environmental services; Becky Monnier, Clare Residence; Judy Motzko, Clare Residence; Patty Nelson, Clare Residence; Eda Scepaniak, Clare Residence, and Michelle Strempke, Clare Residence.