Elizabeth Rydeen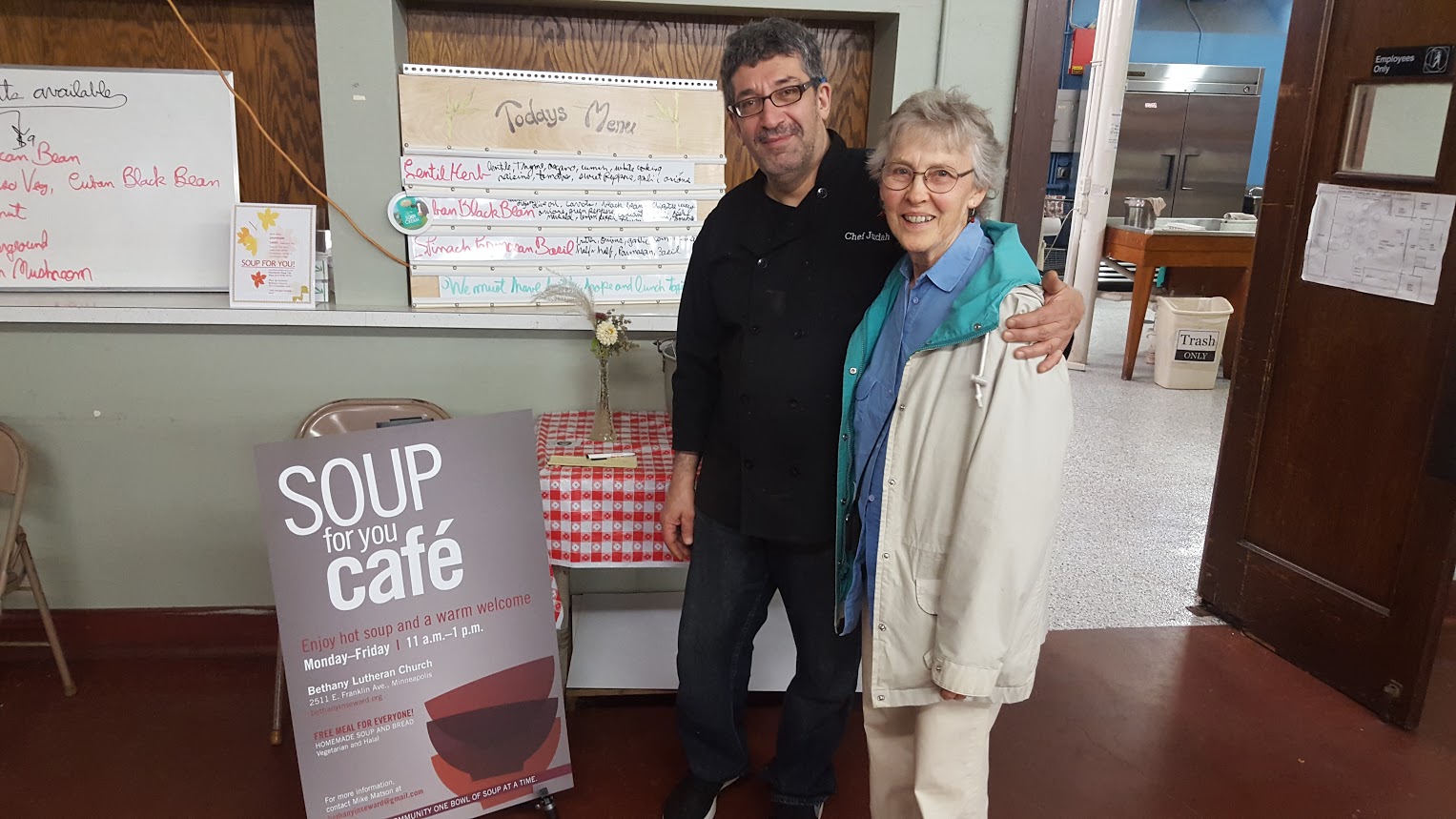 While Soup for You Café certainly feeds people, its model goes far beyond the traditional "soup kitchen" to create a welcoming atmosphere for people needing a hot meal. There's no standing in line at Soup for You Café—instead guests are seated at tables and waited on as if in a restaurant. Volunteers, who serve the food and sit and eat with the guests, are local folks from the diverse Seward neighborhood. Soup for You draws people living and working in the community and those passing through. People with the ability to leave a donation for their lunch are happy to do so, which helps cover expenses.
Located in the basement of Bethany Lutheran Church in south Minneapolis, the program is the brainchild of Judah Nataf, chef and longtime friend of Sister Joanne Klinnert who sponsored the One-World Mission application. They worked together at St. Martin's Table for 15 years. The menu is strictly vegetarian with homemade soups made from organic produce grown locally whenever possible. Soup is sold by the quart as well. Judah has quite a following and his soup making has received acclaim from food critics.
Soup for You—operating with the philosophy that healthy food shouldn't be reserved for only those who can afford it—is really a daily community meal that provides an inclusive and dignified space for individuals who are racially, ethnically, economically and religiously diverse. "By its very nature," says Sister Joanne, "the project recognizes the inherent dignity and equality of every person. I have seen college professors eating alongside homeless persons. Food and companionship are basic human needs and are, in a small way, met here."
A OWM grant is being used for general operating costs and to purchase an industrial mixer for bread making and to be shared with a local Somali women who use the kitchen to make chapti, an East-African flat bread.
Caption: Sister Joanne Klinnert with chef Judah Nataf, a legend in the Twin Cities culinary world. Soup for You opened in February and has already served over 6,000 guests.