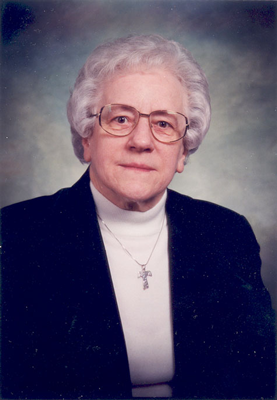 Sister Elizabeth Weier, 87, died on July 5, at St. Francis Convent, Little Falls, Minn.
Elizabeth (Betty/Liz) Weier was born on November 22, 1927, in Dodgeville, Wis., the ninth of 12 children born to the late Francis (Frank) and Nora (Nellie Coffey) Weier. Accepted as a Franciscan Sister of Little Falls, Minnesota, on August 12, 1948, she took the name Sister Mary Urban, but later returned to her baptismal name, Elizabeth. Her first profession of vows was on August 12, 1950, and final vows on August 12, 1953. She was a Franciscan Sister for 66 years.


Elizabeth grew up on a Wisconsin farm where she enjoyed simple rural delights such as fishing and swimming, sledding and tobogganing, horseback riding, berry picking, and playing cards with family on long winter evenings. Daily tasks at home and family prayer were a part of her early life.


The Franciscan Sisters owned and operated the nearby hospital in Dodgeville, and the sisters became good friends of the Weier family. Their influence encouraged six of the children who eventually became Franciscans, including Father Thomas, Sisters Lenore, Camillus, Vianney, Elizabeth and later Helen, who became a Poor Clare.


Sister Elizabeth received her Bachelor of Science and Master of Arts degrees from Marquette University in Milwaukee. She taught English and Driver Education at St. Francis High School for many years. When St. Francis High School closed in 1977, Sisters Elizabeth and Judine Cassidy changed from educating girls to educating boys, moving east to New York, where they served at Bishop Ford High School in Brooklyn and Monsignor Farrell High School in Staten Island. Sister Elizabeth saw her ministry in education as a blessing and was able to help students grow as Christian women and men and find their place in society and church.


Known as a great cook, Sister Liz's culinary delights never failed to please everyone who came to their table. She was very gracious and hospitable and reached out especially to those who lacked the company of family and friends.


Sister Elizabeth was preceded in death by her parents, siblings: Reverend Thomas, OFM, CAP.; Leo, Sister Lenore, OSF; Sister Camillus, OSF; Marie Zweifel, Gerald, Benedict, Vincent and Lawrence. Survivors include siblings: Sister Vianney, OSF, Little Falls; Sister Helen, OSC, Bloomington; nieces, nephews and her Franciscan Community.


A Mass of Christian Burial will take place at St. Francis Convent on Saturday, July 11, at 11 a.m.. Friends may call at St. Francis Convent on July 10, from 4-8:30 p.m., with a Franciscan prayer service at 7:15 p.m. and from 8:30 a.m. until the time of the funeral on July 11, at 11 a.m. Arrangements are by Shelley Funeral Chapel, Little Falls.


Donations to Franciscan Sisters Ministries preferred.