This article first appeared in the Morrison County Record and is republished with permission.
This is fifth in a series of articles on the history of the Franciscan Sisters of Little Falls.

By Sister Carol Schmit, Guest Writer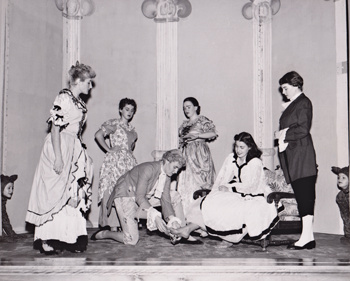 As the Franciscan community began to grow, education for women was never in doubt. To understand the Franciscan Sisters' priority on education, it may be helpful to highlight some key historical markers.
Minnesota became a state in 1858. The population was 9,000, which didn't include the vast number of Native Americans who were not part of the census. Women received the right to vote in 1920. The Equal Rights Amendment (ERA), meant to give women equal rights with men, was passed in 1923, but to this day never ratified by the required 38 states.


As the sisters considered requests to establish hospitals, homes for the aged and schools, education of the sisters was key. Sisters were sent far and wide for further education and training.


Sister Mary Joseph White went to Denver to study pharmacy; Sister Baptista Blais accompanied her to study dietetics. Sister Mary Michael McClaney was sent to Creighton Memorial Hospital in Omaha to prepare for surgical nursing. Sister Mary Angela Michaud, already a teacher, was sent to Lafayette, Ind., for a specialized course in teacher training, as were Sisters Mary Bernardine Bergen and Gabriel Keenan in Columbus, Neb.


From the 1890s through the first decade of the 20th century, sisters were serving as administrators of hospitals, nursing schools and nursing homes and an orphanage. Attendance at national meetings of hospital administrators included men and religious sisters.


As the ministries required more professional preparation, the sisters saw the need for a solid educational background for new members coming to the convent from small towns and rural areas where there was often little or no opportunity for a high school education. In 1922, a high school department was started for sisters who had no secondary education.


What was to become St. Francis High School began (without accreditation) in a corner room of the convent building. Sister Agatha Zaczkowski, who had completed two years of high school at Melrose when she entered the community in 1916, became one of a little group that hoped to obtain a diploma.
Sister Agatha described the new school, "There were no blackboards or desks. The room was furnished with a table and a few chairs, slates and pencils, a dictionary, a few textbooks and a globe. The student sisters wrote out their essays on the backs of letters from advertising companies. For their algebra assignments, they slit open used envelopes and wrote on the inside. The science laboratory consisted of a small homemade tray table equipped with an alcohol lamp, a test tube and small dish and spoon and a few simple chemicals."


Four sisters earned their high school diplomas after passing their tests which they took at the local public high school, including exams on subjects for which they had no classwork.


By 1926, St. Francis High School was officially established, meeting the state requirement of having at least four teachers. The three women on the faculty were all graduates of the College of St. Teresa, Winona, Minn. Sister Antonio Kane was principal and also taught history, social science, English III and IV. Sister Mary Catherine Reis taught English I and II, French, biology and chorus; Reverend Henry Hirsch conducted the classes in religion and Latin. Lay teacher Mary Viola Allen taught algebra, geometry, general science, chemistry and physical education.


During that first year Mary Viola Allen entered the Franciscan community and became Sister Mary Loraine and later served as principal of the school for 17 years.


As with the hospital and the orphanage, the high school soon needed a building of its own. We sisters have often asked, "Where did the vision come from?"


The 1929 building, home to the new St. Francis High School, included housing for 100 boarding students, a state-of-the-art swimming pool, gymnasium, music studios and classrooms for all the required high school subjects.


While the majority of students were boarders — young 13- and 14-year-olds away from home for the first time — a significant number each year lived in Little Falls and neighboring towns. These were dubbed "day hops." The school offered a full-scale curriculum, including music, even operettas with orchestra, and the arts.


By the 1970s, interest in Catholic boarding schools had waned. The school graduated its last class in 1977. A total of 2,358 young women graduated — well prepared to offer their families, parishes and cities throughout the United States and abroad values of leadership, community and social justice.
Portions of this article are taken from In the Shadow of His Wings (1977) by Sister Assumpta Ahles and The Foundation and Years of Expansion (1990) by Sister Beata Lorsung.


Sister Carol Schmit graduated from St. Francis High School in 1956 and returned in 1963 to teach there until its closing.


Photo Caption: A 1955 performance of the operetta, "The Slip of a Slipper," featured Carol Schmit, Adeline Kroll, Carol Cruse, Anne Coleman, Doreen Eveslage and Myrna Ohmann. Anne Coleman and Myrna Ohmann entered the community, but are no longer members. Carol Schmit and Ade Kroll have been Franciscan Sisters for 57 years. Photo courtesy of the Franciscan Sisters Archives