Sisters Jan, Paula and Carol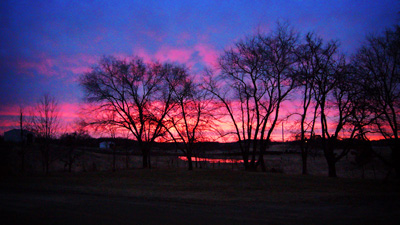 Yes, we Franciscan Sisters are closing Clare's Well this summer of 2015. The end of our 27-year ministry here is colored with memories filled with love and grace as well as pain and sorrow. We are practicing the "art of ending" step-by-step with no previous experience that even begins to parallel this move.
Many of you have found new life during your visits here. You have also given us new life through loving friendship and support. It is one thing to pack up material things and move on; how do we take people and relationships along with us? It is possible we may never meet again during our lives here on Earth. Our new address will be Franciscan Sisters, 9080 Kennedy Ave NW, Annandale, MN 55302. We do not have e-mail addresses for most of you. Here are our Franciscan Sisters of Little Falls e-mail addresses: (Sister Carol)
cschmit@fslf.org
; (Sister Paula)
ppohlmann@fslf.org
; (Sister Jan)
jkilian@fslf.org
.
THANK YOU to everyone who has helped to make Clare's Well a reality for 27 years. You know who you are—if we were to list all of your names, this would become a very large book! We, Franciscan Sisters, will continue to rely on you. As you consider future giving, we humbly ask you to please support us through the Franciscan Sisters of Little Falls. God bless you. We hold you in our hearts and in our prayer. You are always welcome to let us know your prayer needs.


People are asking us what we sisters will do when we leave Clare's Well. Will we retire? Probably not. We want to continue serving however God and our community will direct us. We surely don't feel ready to retire.


Our Franciscan documents say, "We serve God in our neighbor by service in charity and action on behalf of justice in the promotion of peace." Pope Francis asks us to be teachers in the "school of communion." In his Letter proclaiming the Year of Consecrated Life he said, "...the path of charity open before us is almost infinite since it entails mutual acceptance and concern, practicing a communion of goods both material and spiritual... it is the mystique of living together which makes our life a sacred pilgrimage." This communion is what we experience in our Franciscan community, the large community of Clare's Well, our parish community (St. Ignatius Church) and in our many interactions with people in and surrounding Annandale.


We are happy to continue to live in Annandale among old friends with possibilities of meeting many new people. We anticipate there will be opportunities for mutual growth in spirituality and service. We believe there are ways we can continue to serve and they will become clear to us after some time of transition. We will remember you and pray for you. Thank you all. God bless you.