Article appeared in March 29 issue of the Morrison County Record
By Gabby Landsverk, Staff Writer
With Palm Sunday coming up, now is the time of year when the Franciscan Sisters and other members of the community breathe life into an ancient practice of both artistry and worship: weaving blessed palms.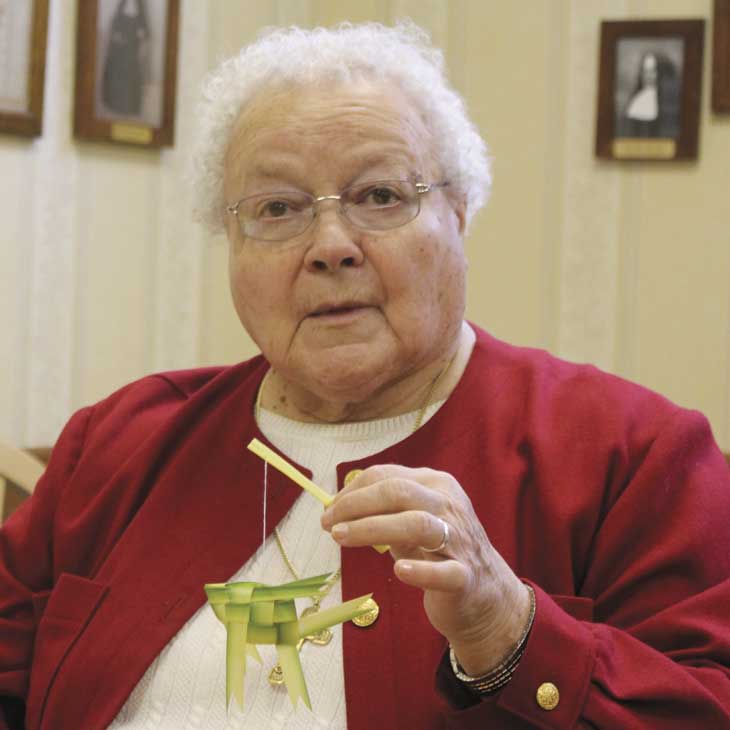 "It's a very old tradition. It goes way, way back," said Sister Mary Lou Eltgroth, who has been weaving palms for more than 50 years.
It began in ancient times, when people in tropical climates braided palms into both practical and artistic objects, said Eltgroth.
Palm branches are also a symbol of honor and homage, Eltgroth said, and came to be associated with Jesus as part of his triumphant procession into Jerusalem riding a donkey as crowds of people waved palms to acknowledge him as king.
The tradition was brought to the United States by immigrants, particularly those of German and Swedish descent, many of whom settled in Central Minnesota, according to a history of palm weaving by Sister Cecilia Schmitt.
Since then, said Eltgroth, the tradition has been passed down through families or communities such as the Franciscan Sisters.
Sister Georgine Larson was taught by an older Sister many years ago.
"I took to it and kept up," Larson said. "Palms are a little sacrament, a reminder that God is in our presence."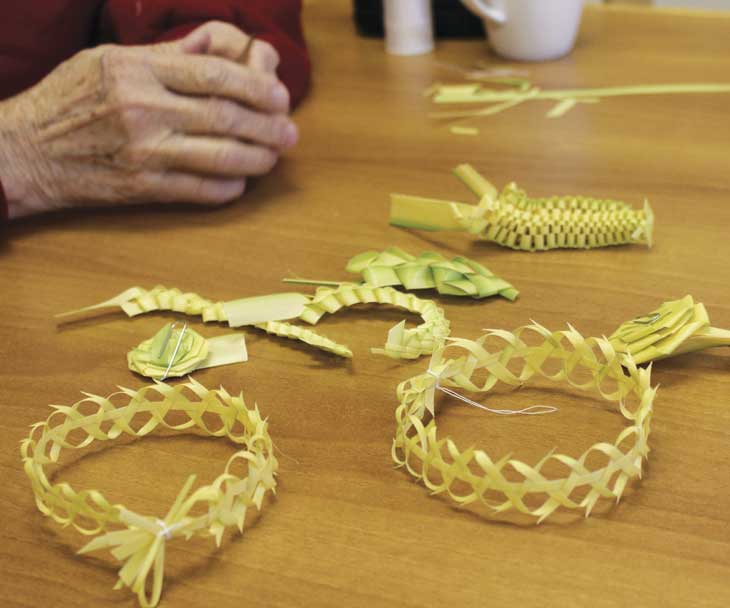 The palms are blessed for the celebration on Palm Sunday, and are therefore considered sacred objects to be treated with deep respect.
The ashes from burned palms are kept to be used on Ash Wednesday the following year.
Palms can also be kept as blessings to keep for protection in the home, a car or even a fishing tackle box, said Eltgroth.
Palm weaving makes these sacred objects beautiful as well as holy.
"It looks a lot better than just a stringy frond," Eltgroth said.
As an art, palm weaving is an opportunity to combine creativity, meditative prayerfulness and community all at once.
"It's another way of praying," Eltgroth said.
Palm weaving also brings people together, and Eltgroth said working with others can inspire a new level of art and spirituality.
"That works in all ways, whatever endeavor you're doing. You learn from each other and get ideas," Eltgroth said.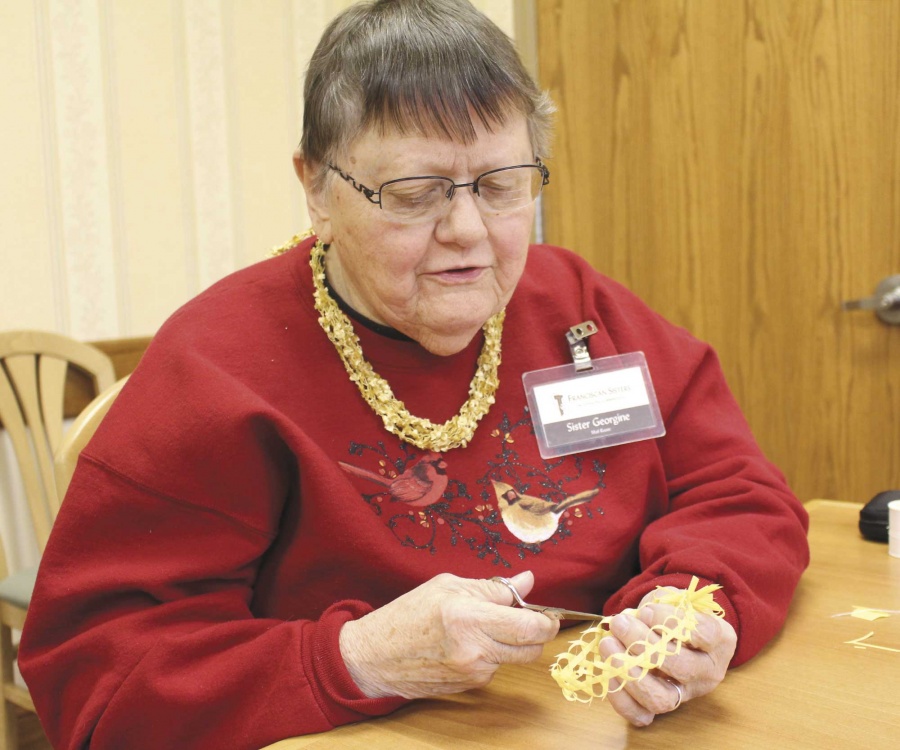 Larson added that with the right kind of attention, any activity can bring people closer to God and to each other.
"Any creative craft is a time to be to be alone or with others, think of God and pray for people" Larson said.
Larson described making a doily at a retreat and praying for someone with every stitch.
Palm braiding and similar arts are also an opportunity for peace and reflection, the Sisters said.
"There's so much noise in the world as it is. Being able to have some time for quiet and spend some time in quiet is an OK thing," Eltgroth said.
Although the woven fronds can last years, palm weaving is becoming a lost art, and the Franciscan Sisters have kept it alive through practice. One of the few books written on the subject was authored by Sister Cecilia Schmitt of the Franciscan Sisters.
"She was really an expert," Eltgroth said. "I spent days with her just braiding palms. … It's coming back to life by teaching people how to do it."
Jan Roering, of the Community Relations Department at St. Francis, said Schmitt's book, and her legacy, have played a large role in keeping the tradition strong today.
"One of Sister Cecilia's reasons for doing the books … was so that it wouldn't become a dying art. She wanted it to continue on for generations. That was her hope," Roering said.
Now, the Franciscan Sister continue to teach classes. While many grandparents remember the art, it seems to have skipped a generation, Eltgroth said, but young people are showing a renewed interest.
"It's for whoever wants to learn it and do it," Eltgroth said.
Young or old, Eltgroth said, palm weaving is still a means of peace and spirituality in today's noisy world.
"Use it as a prayer," Eltgroth said. "Use the time that you're working and say 'This is good.'"
Click here to watch video of Sr. Mary Lou palm weaving (on the Morrison County Records website)