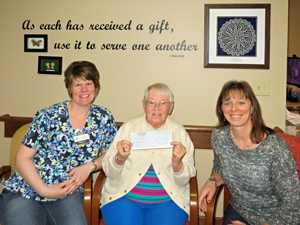 Sixteen Franciscan Sisters at St. Francis Convent combined their dollars and put forth physical efforts to raise funds for the Morrison County Food Shelf, now in its annual March Food Drive. Activities coordinator Cheryl Aswegan and nursing staff organized the sisters on two floors of Clare Residence. Some sisters participated in a walk-a-thon and others joined in a ball toss. The result: Sisters raised $48 for a cause dear to their hearts. The Franciscan Sisters no longer work directly with the local food shelf, yet they continue to keep the cause in their prayers. Originally housed in the basement of Mary Hall on the Motherhouse campus, the first Food Shelf was open two mornings each week and was started by Sister Julien Dirkes and Lon Kvanli, interim pastor from First Lutheran Church. They worked jointly in setting up the "Food Pantry" program which began on December 22, 1981. In January 1983 the Food Shelf moved from Mary Hall to Hurrle Hall; Sister Kathleen Kelly was the director from 1986-2002. Two years later, it moved to its present location in Little Falls.
Happily presenting a check for $32 to Carol Johnson, Director of Morrison County Food Shelf, was Sister Maureen Blenkush. Melissa Harris, at left, is the Nursing Supervisor for
Clare Residence. Sisters on third floor contributed $16 to the March food drive also.