Sisters Isa Berrones, Aurora Tovar and Janice Wiechman
The weekend before Christmas, members of seven Franciscan communities met in Guatemala. The three of us participated in a meeting called by Pat Farrell, a Franciscan from Dubuque, Iowa. The reason for this meeting was to have an opportunity to know other sisters who speak Spanish and are members of Franciscan Congregations whose motherhouses are in the United States. The importance of this "encuentro" (in Spanish "encuentro" means a sharing face to face in a deep way) was coming to know other sisters with whom we, Sisters Aurora and Isa, can identify. We found that we have much in common and could connect heart to heart very quickly. We spoke of prayer, of cultural differences, of not wearing a habit and we could understand each other's experiences. This meeting helped us feel a new confidence that there are other sisters with whom we can share common experiences. We are not alone on our journey. We know that we can be a mutual support to each other and so keep growing.

We talked about the future, too. Our experience is different from many congregations in our countries. Most communities in our counties wear a habit, for instance. We agreed that in this gathering we have not worked much to invite others to our congregations. This meeting calls us to begin to work for vocations in our native countries. Could we have a common Franciscan novitiate in Mexico or Honduras or Guatemala to prepare future vocations together in the Latin culture? We each want to continue to be part of our Franciscan Congregations. We desire that our communities grow. We feel that working together we can prepare others to be members of our communities. Working together we can strengthen our vision and our experience of being international communities.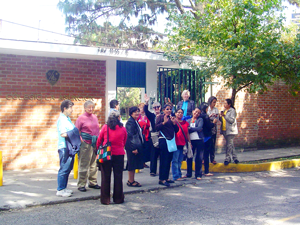 From each congregation an English speaking sister also participated in the meeting. I, Sister Janice, met with four other sisters. Our English-speaking group shared resources available in Spanish, books on Franciscanism, challenges in getting visas, cultural differences and our experiences in providing the formation needed by the young women wanting to be part of our congregations. We talked about the difficulty of finding spiritual directors for those in formation, courses in Franciscanism and theology and the challenge and the richness of living in a community with two cultures. We believe we can help each other by sharing resources and experiences and looking for solutions together for the difficulties.
The communities that participated in this meeting and the country in which they minister are Franciscan Sisters of Rochester (Colombia); Dubuque, Iowa (Honduras); Stella Niagara, N.Y. (Chiapas, Mexico); Milwaukee, Wisc. (Guatemala); our own Franciscan Sisters of Little Falls (Nuevo Leon, Mexico); and the Bernadine Franciscans (Dominican Republic).


The encounter was so positive and rich and gave such hope that we plan to meet again in a year and a half. Meantime we hope to stay in touch through e-mail.