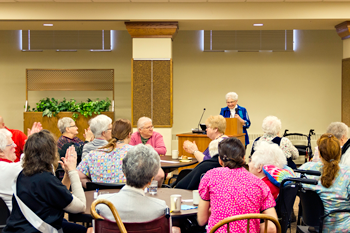 On Thursday, March 12, employees at St. Francis Convent, Little Falls, invited the Franciscan Sisters to a Sisters Appreciation Gathering in St. Francis Hall, in recognition of National Catholic Sisters Week, March 8-14. Employees treated the sisters to special refreshments, with the assistance of staff from Nutrition Services, and gifted individual carnations to each sister in attendance.
Marcia Goff, director of Hospitality, welcomed all the sisters and employees and shared the history of National Catholic Sisters Week. She explained that as part of Women's History Month, religious communities are spotlighting the impact Catholic sisters have made throughout the country and beyond. Through various activities honoring women religious, such as the Appreciation Gathering today, we thank the sisters and together continue to encourage young women to follow their example. Goff went on to say, "We employees recognize all that you Franciscan Sisters do and we want to rejoice today with the women who mean so much to all of us."


Julene Ley, director of Archives, presented a brief history on what it was like to become a Franciscan Sister from an archival perspective. She added, "You sisters make this a great work environment. We employees want to say thank you for letting us into your house and work for you. All of you hold a special place in the hearts of the employees."


Thanks to the ever-creative talents of Robyn Gray, Allen Riedeman and Gretchen Miller, employees displayed their deep gratitude to the sisters by sharing a light-hearted departmental interpretation of the Prayer of Saint Francis. Each line of the prayer, recited by an employee, was dedicated to a department at FSLF. Visual aids helped to deliver this delightful presentation while all in attendance enjoyed the creative talents of the employee skit.