Rick Dietz, Franciscan Life Center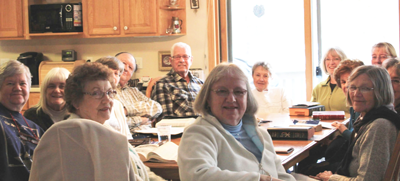 About a year ago, at the request of two associates, Geri Dietz and I gave a retreat about the life of Saint Francis of Assisi at the Catholic Parish in Pine River. In early fall this past year, these same two associates approached Geri and asked if it would be possible to have her come to Pine River and lead a group of parishioners through Pope Francis' exhortation, "The Joy of the Gospel." Geri agreed and met with 12-15 parish members for six Monday afternoons in November and December. They met at the home of associates Marilyn and John Bueckers in Pine River.
The participants had such a good time, when they finished, they asked if Geri could lead them in actually reading through a Gospel. Geri talked with me and we felt it would be an outreach opportunity for the Franciscan Life Center. The Franciscan Life Center, the Office for Associates, the Companioning Ministry Office (vocations) and the Franciscan Community Volunteers have met to discuss how we can support each other as the requests we get can cross over traditional ministry boundaries. Geri accepted the request and on Monday afternoons in December, January and February, she led a Bible study entitled, "A Franciscan Perspective of the Gospel of Mark." (See the accompanying photo of the group.)


As the Bible study finished, the participants again asked if maybe in the spring or fall they could invite Geri to come again. The parishioners seem very happy to learn about living the Gospel in the tradition of Saint Francis and Saint Clare.