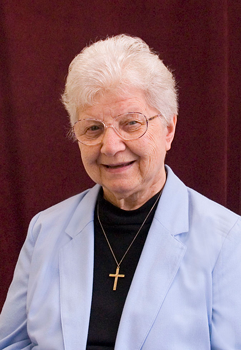 Sister Mary Lerose (Florence) Popp, 91, died on January 15, 2015, at St. Francis Convent, Little Falls, Minn.
Florence was born on January 23, 1923, in Rice, Minn. She was the fifth of 17 children born to the late Leo and Rose (Gottwalt) Popp. She was accepted as a Franciscan Sister of Little Falls, Minn. on August 12, 1941. She received Lerose as her religious name, a name she chose because it included both her mother and father's names. She made her first profession on August 12, 1943, and final vows on August 12, 1946. Sister Lerose was a Franciscan Sister for 73 years.

As a child growing up, she enjoyed caring for her younger brothers and sisters and their family was large enough to have their own ball team. In such a large family she and her sisters cherished moments spent helping their mother and visiting with her. It was at these times that their mother talked about some of her daughters becoming religious sisters. Her mother became acquainted with the sisters at St. Gabriel's Hospital in Little Falls. Rose was pleased when Florence wanted to go to St. Francis High School and become a Franciscan Sister.

Sister Lerose loved children and enjoyed being with them, especially the hurting and needy ones. It was no accident that her many years of ministry were spent at the St. Cloud Children's Home and as Prefect for the resident students at St. Francis High School. She is quoted as saying, "I went back and forth between these two places like a yo-yo! I had an okay feeling about it because I always felt needed and wanted and I loved my ministry." Around 1964, the Children's Home evolved from custodial care to a treatment center. It was at this time that Sister Lerose began ministering to the elderly at our Convent Care Center and at St. Otto's Care Center; however, she missed the children and returned to working as a tutor in the Little Falls schools.

For pastimes, she loved to grow house plants, especially African violets, collect agates, listen to classical music and read. Lerose loved to play scrabble and became very good at it.

Sister Lerose was preceded in death by siblings Leona Kasella, Roman, Marvin, Marian Kasella, Roselyn Huver, Wilfred, Arthur, Elmer, Rita Kloss, Corrine Garner and Leo, Jr. Survivors include siblings Robert (Alma) and Ernest (Deloures), Rice; Joanne (Adolf) Zistl, St. Stephen; Harold (Valeria), Orange City, Fla.; Johnelle (Douglas) Novak, Foley; in-laws, nieces, nephews and her Franciscan Community.
A Mass of Christian Burial will take place at St. Francis Convent on Tuesday, January 20, at 11 a.m. F

Friends may call at St. Francis Convent on Monday, January 19, from 4-8:30 p.m., with a Franciscan prayer service at 7 p.m. and from 8:30 a.m. until the time of the funeral on January 20, at 11 a.m. Arrangements are by Shelley Funeral Chapel, Little Falls.


Donations to Franciscan Sisters Ministries preferred.