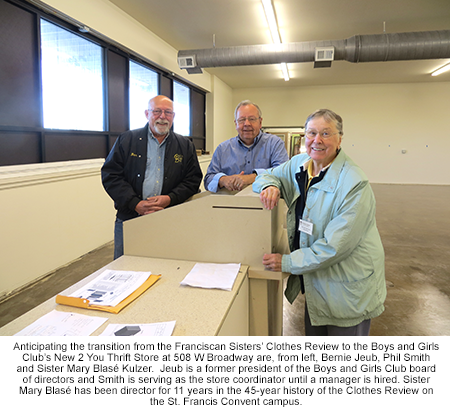 The Clothes Review, Little Falls, a gently used resale outlet located on the St. Francis Convent campus, is closing on December 12 and moving its inventory to a new location and under new ownership of the "New 2 You Thrift Store" at 508 W. Broadway. (No additional clothes will be accepted at the current Clothes Review location after December 10.) The store's mission is to help support The Boys & Girls Club of Morrison County.
With its origin in Belle Prairie in 1969, the Franciscan Sisters saw a need for reasonably priced, gently used clothing in the community and nurtured the ministry through various locations until it landed in the sisters' former chicken coop near the locker plant on campus, obviously remodeled and updated over the years and overseen by several Franciscan Sisters and many faithful volunteers.
Sister Mary Blase Kulzer, current director, said, "People of the Little Falls community and beyond have expressed their appreciation for this place. They say, 'I don't have to go anywhere else. I can get what I need right here.'"
Hearing that, Sister Mary Blase said, "Comments like those give me aliveness for this ministry. People really need shoes and clothing and we can provide that at low cost."
She added, "We are transferring this ministry to the Boys and Girls Club because we need to face the facts. I'm not as young as I once was and we sisters are fewer in number. Throughout our history, we have 'done what was ours to do,' as Saint Francis said, and then we place the ministry in capable hands and we move on where God calls us."
Sad that the ministry is closing on the St. Francis campus, with eyes bright and full of life, Sister Mary Blase said, "This is what I was able to give with my life; we have done the best that we could. Now it's a chance for others to give of themselves to those in need."
The 7,000 square foot shop, called "New 2 You Thrift Store" is scheduled to open in early November. Under a special arrangement, Habitat for Humanity will also offer donated items for sale at the store. Phil Smith, who managed J.C. Penney stores for 42 years currently serves on the Boys & Girls Club Advisory Counsel and is heading up the store project. "We are very excited about the store and the support the Franciscan Sisters are giving us. We look forward to serving the community in much the same way they have over the years, and at the same time, helping support the Boys & Girls Club," said Smith.
The "New 2 You Thrift Store" is currently accepting donations at its new location on Mondays from 9-noon and Tuesdays from 3-6 p.m. They are also collecting names of anyone wanting to "help change a child's life" by volunteering to help in the store. Please contact Judy at 320-360-7017 to add your name to the list.