Sister Loretta Denfeld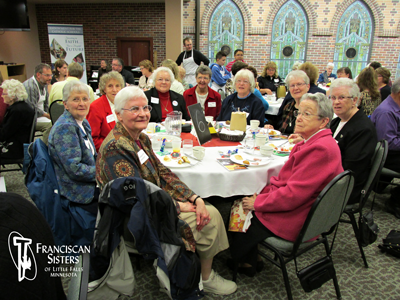 On Wednesday morning, October 22, seven of us Franciscan Sisters (Sisters Mary Lou Eltgroth, Cordy Korkowski, Trudy Schommer, Adela Gross, Clara Stang, Marguerite Ostendorf and Loretta Denfeld) left in the early morning for "Brunch with the Bishop"at Our Lady of Victory parish in Fergus Falls. The sisters were honored for their years of teaching in parish schools as part of the program at this event. Attending the gathering were also parishioners and pastors from many parishes from west central Minnesota who attended to support scholarships for Catholic education.
As we entered the church, our nostrils were greeted with the sweet aroma of a French Toast Bake and a huge welcome from the parishioners and organizers of the event. What a delight it was to see former students of Adela Gross (Sister Peter) receiving hugs from these big men! The chef for the meal was a student of Sister Marguerite. An added attraction was an unplanned impromptu by Father William Gamber, native son of Fergus Falls who spoke during the program. He said he owes his vocation to our Sisters Mary Leona Trettel, Jeremiah Trutwin and Johnita Omann who were stationed in Fergus Falls when he was a young man. He was so appreciative of our Franciscan Community.
Sixth grade students sang a couple of hymns during the meal. Other students waited on tables as we ate. Two Benedictine sisters, Sisters Mariterese Woida and Suzanne Slominski were at the table with us. Sister Mariterese read a letter on behalf of the leadership of Sister Michaela Hedican and Sister Bea Eichten. Bishop Don Kettler encouraged financial support for students who wish to attend Catholic schools but cannot afford the cost. It was an upbeat, wonderful morning for all in attendance.