Geri Dietz, Associates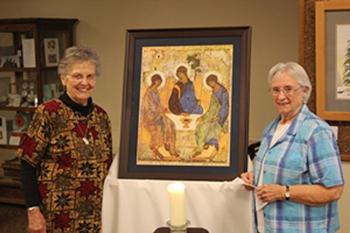 The Fall Day of Reflection entitled, Fullness of Life in God: The Trinity with Sister Mary Zirbes and Sister Rose Mae Rausch, last Saturday, September 13, was inviting, informative and inspirational!
There were 61 women and men who spent the day contemplating the once unfathomable Blessed Trinity. Through a DVD presentation by Father John Quigley, OFM, and then times for contemplation and reflection questions by Sisters Rose Mae and Mary, we processed and discussed the dynamic relationship of the Trinity.
Thank you to everyone who helped make this day a sacred time together. Thank you especially to Sister Rose Mae and Sister Mary (pictured)!