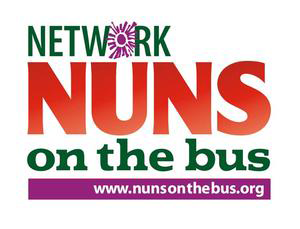 Network's Nuns on the Bus is coming to Minnesota, to mobilize "We the People, We the Voters!" You are invited to gather with them on Monday, September 22, 6-8 p.m., in St. Benedict's Monastery Dining Room, St. Joseph, Minn. As midterm elections are just around the corner, "We the People" need to:
1. Vote
(Strong voter turnout overpowers the influence of big money in politics. Dollars can't vote, you can.)
2. Encourage Others to Vote
(When we encourage people to vote, we make sure that the voices of the 100 percent are heard. Urge and help others to vote.
3. Hold Candidates Responsible
(When we demand that candidates commit to policies that benefit the 100 percent, we can all hold them accountable when they are elected. When the people vote, politicians listen.
For more information on this event, contact Sister Marlene Schwinghammer at (320)363-7001. For more information on Network's Nuns on the Bus, visit:
www.nunsonthebus.org
.
Sister Bea EichtenLeadership