Sisters Ardis Cloutier and Paula Pohlmann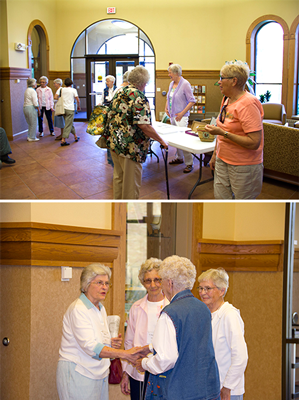 On Thursday, July 24, approximately 70 nurses came to St. Francis Convent to celebrate and remember 50 years since the closing of St. Francis Hospital School of Nursing. The Schools of X-ray Technology and Medical Record Technicians were also represented. Guests also included other former employees at St. Francis as well as some husbands. This event was organized by Rita Bentfield Hacker and Lucy Beyer Wasemiller.
Graduates came from as far away as Florida and Arizona. The day began with registration and welcome in our west entrance, followed by celebration of Mass. It was a beautiful sight to see women greeting each other with hugs, women who had not seen each other for years. After Mass, a festive lunch was served in St. Francis Hall. This was followed by an afternoon of reminiscing about teachers, classmates and life as student nurses at the old St. Francis Hospital and Marian Hall as well, of course, as updating each other with their current lives.
Former faculty members present included Sisters Antonette Ahles, Maureen Blenkush, Ardis (Mario) Cloutier, Paula Pohlmann and Evangeline Stanoch and Mrs. Dee Korbel.
There have been several of these gatherings held here at the Convent and since at this gathering, the final (1964) class celebrated 50 years since graduation, it was decided that this will be the last such formal gathering. Individual classes will very likely arrange to get together from time to time.
The spirit at this gathering was wonderful–there is no question but that these women are carrying our Franciscan charism with them and sharing it with their families and friends. We have to be so grateful for the brave women who began this nursing program back in the early 1900s. They instilled the spirit of Saint Francis in those early graduates and that has continued all through the years. It is still very much alive in these wonderful graduates of whom we can be so proud.
Records indicate that the three schools graduated the following: 509–School of Nursing; 49–School of Medical Record Technicians; and 32–School of X-ray Technology.