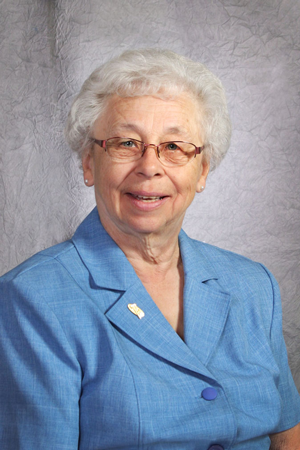 Sister Mary Carolita (Marie) Mauer, 76, died on July 13, 2014, at St. Francis Convent, Little Falls, Minn.
Marie Josephine was born on a cold wintry February 8, 1938, in Fergus Falls, Minn., the first of four children born to the late Ernest and Alice (Zimmer) Mauer. Marie was accepted as a Franciscan Sister of Little Falls, Minn. on July 31, 1956. Sister Carolita made her first profession of vows on August 12, 1958, and final vows on August 12, 1961. She was a Franciscan Sister for 57 years.
Sister Carolita was a very detailed person and a great organizer. She valued the importance of living each day to the fullest. Sister Carolita enjoyed learning new skills, reading about and visiting new places and meeting new people. She enjoyed the outdoors, beautiful scenery, wildlife and the mountains. A great experience was her camping trip with her brother in Alaska. Reflecting on her life, Sister Carolita said, "These years have been ones of continual change both in the Church and religious life. It has been most exciting to be a part of this process and to be involved in this unique time in the history of the Church and our Franciscan Community."
Sister Carolita felt fortunate to belong to a profession, occupational therapy, whose purpose is to help others function effectively in daily life, despite physical and mental disabilities. Her studies began at the College of St. Catherine in St. Paul where she received her Bachelor's degree. Sister Carolita received a Master's degree from New York University, New York, N.Y.
Her ministry began in occupational therapy at St. Gabriel's Hospital in Little Falls and St. Ansgar's Hospital in Moorhead. However, teaching other students the skills of occupational therapy became her passion for 38 years at North Dakota State School of Science at Wahpeton, N. Dak., where she served as an instructor, Department Chair and Associate Professor of Occupational Therapy Assistant Program. She was loved and highly regarded by both students and fellow faculty members. During her years of teaching, she resided in Breckenridge and Wahpeton, with her feline friends who were a source of companionship and diversion.
After years of teaching, Sister Carolita felt called to the ministry of Spiritual Direction and later served in Leadership in our Franciscan Community.
Survivors include siblings: Sister Juanita (Barbara Ann), OSF, St. Cloud; Joseph (Sharon), Fergus Falls; Francis (Yoriko), Fairbanks, Alaska; a niece, nephews and her Franciscan Community.
A Mass of Christian Burial will take place at St. Francis Convent on July 16, at 11 a.m. Friends may call at St. Francis Convent on July 15, from 4-8:30 p.m., with a Franciscan prayer service at 7 p.m. and from 8:30 a.m. until the time of the funeral on July 16, at 11 a.m. Arrangements are by Emblom Brenny Funeral Service, Little Falls.
Donations to Franciscan Sisters Ministries preferred.