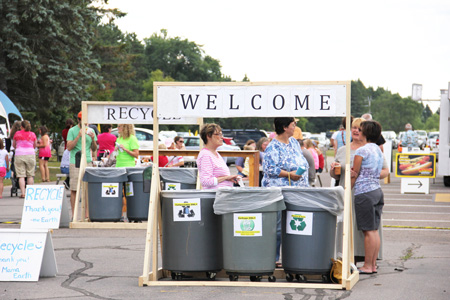 The Franciscan Sisters of Little Falls invite the public to attend the 2014 Green Fair Folk Festival on Wednesday, August 6, from 4-8 p.m., on the west lawn at St. Francis Convent, Little Falls. Now in its eighth year, the Green Fair welcomed over 900 people in 2013.
"The Green Fair Folk Festival has become a Little Falls tradition," according to Anne Heisick, coordinator of the Festival. "Families see it as a fun afternoon full of great activities for their children, delicious and low-cost food, and a way to learn about the environment and how to better care for our world. Plus, the musical entertainment is first class, local talent. There is something for everyone!"
Vendors – more than 50 of them at last year's event – are invited to sell, exhibit and share information on their green and sustainable products or services. "All vendors carry a passion of caring for the earth, wellness, and for the future of our children. It is free to be a vendor at the Green Fair; all you need to do is register in advance," Heisick said. To be a sponsor of the event or to have a booth, please pre-register as soon as possible; late registrants are welcome but they may not be included in the printed guide.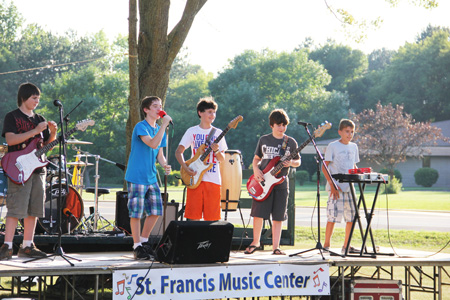 "The Green Fair Folk Festival grew out of an idea to celebrate the abundance of musical talent in rural Minnesota," according to Robyn Gray, director of the St. Francis Music Center. "Music is a universal language and the Franciscan Sisters have hosted an outdoor Concert for Peace since 2007, featuring rural Minnesota talent. This community concert put in motion the idea of combining a Green Fair along with the concert."
Gray added, "Care of creation is so important to the Franciscan Sisters that they formed a Campus Green Committee, whose mission was to educate on green awareness and to 'green' the campus in every way possible. The passion of the Green Committee members, combined with the love of music from St. Francis Music Center, blended into this unique community festival."
Music is a vital element of the event. Appearing on the stage will be a Fiddle Festival featuring area fiddlers. Also featured on the stage will be Sestri, a Slavic women's choir, Woodland Strings, The Rick Family, bands from St. Francis Music Center's URock Camp, and a few surprises. The Fiddle Festival and URock bands are funded by a grant from the Five Wings Arts Council.
"Activities will be available for children in a safe, creative atmosphere. Kids can move around from activity to activity, make messes and create to their heart's content," Gray said. "All these activities are free and fun. Food vendors will provide affordable food, among which is the 25-cent Franciscan peanut butter and jelly sandwich."
This year adults over 18 years of age can register to win a rain barrel which has been donated. In addition, there will again be horse-drawn wagon rides giving tours of the campus grounds.The Green Fair Folk Festival is a community celebration where everyone is welcome. This evening of ecological awareness is free and open to the public and is sponsored by the Franciscan Sisters of Little Falls. For more information, contact Anne Heisick at (320)632-0614, aheisick@fslf.org or visit http://www.fslf.org/pages/GreenFair.