Sister Elise Saggau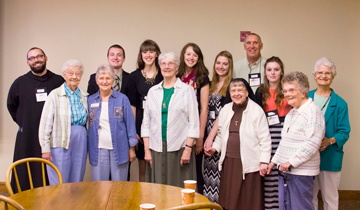 Five of the high school students engaged in this summer's YTM program at St. John's University visited the Motherhouse on Friday, June 20, and made presentations on the projects they had led during the past year. Joseph Moenkedick of Spicer, Mary and Michelle Carlson of Willmar, Matelyn Schulz of Fairmont and Jennifer Warner of St. Paul, all second year YTM participants, had planned and developed youth programs in their parishes, engaged others to assist with the programs, advertised the programs, carried them off, and followed up with evaluations. They had learned that such undertakings are very time-consuming, challenging and more complex than they at first seemed. Nevertheless, all were enthusiastic about their experiences and committed to continued engagement in future service to youth.
YTM began 15 years ago at St. John's and offers a two-week institute there every summer. It engages high school youth in college-level theology study, service projects, justice education, prayer experiences and vocational discernment. Adult mentors come from among students earning Master of Arts Degree in Pastoral Ministry in the School of Theology (SOT), while CSB/SJU undergraduates act as counselors.
The students were accompanied by their three mentors, Christine Pinto, Molly Sagerhorn and Julie Taylor and two program leaders, Dr. Jeff Kaster and Br. Dan Morgan OSB. Dr. Kaster was one of the founders of YTM at St. John's in 1999 and has guided it ever since. He is justifiably proud of a program that has, over the years engaged 426 high school youth, 96 CSB/SJU /SOT theology students as counselors and over 100 adult mentors, 51 of whom have completed a Master's Degree in Pastoral Ministry. YTM is funded by the Lilly Foundation and other supporters, including the Franciscan Sisters of Little Falls.