Sister Cordy Korkowski
What a delight to have our six Franciscan Community Volunteers return to the Motherhouse to share their 11-month experience with us. Monday, June 2, was the evening and it began with dining together at 4:30 p.m., followed by a presentation and personal sharings on their year's activities in St. Francis Hall.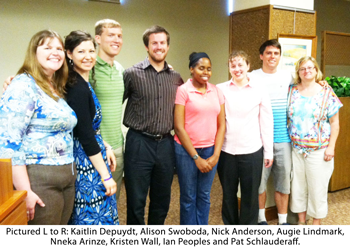 We were welcomed by director Pat Schlauderaff. Assistant director Kaitlin Depuydt then introduced the agenda of the evening. It included each volunteer telling about their work site, a typical day or week, a highlight of the year. In addition, they shared what the challenges were this year and what they learned in their Franciscan living setting. The final question was related to what they want to take with them and live out in their future.
Each volunteer articulately expressed their thoughts and learnings. Their entire presentation was a great tribute to the staff, the FCV program, the significance of their work sites and the "in-house" Sisters Rose Mae Rausch, Michelle L'Allier and Ange Mayers. There were many compliments on the beauty and depth of the sisters who live with them, and the strength of their example of prayer, witness, compassion and companioning.
As we enjoyed popcorn and beverages after the program, there was much time to express personal thanks to the staff, volunteers and our dedicated sisters at the Welcoming House.