Mark Scharenbroich, Emmy-winning humorist and author of "Nice Bike," visited with employees and sisters at a reflection day on Tuesday, April 29.
Quite by accident, he said, he stumbled onto the Harley-Davidson company's 100th anniversary celebration in Milwaukee in 2003. Driving his beige rental car around thousands of black leather-clad, bandana-wearing, hard-core Harley riders, he kept noticing the two words that really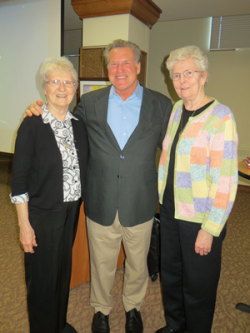 connected rider to rider: "Nice bike." More than a passing compliment, "Nice bike" is a powerful, memorable philosophy that helps to build stronger relationships.
Taught by Franciscan Sisters at Holy Spirit Catholic School in St. Cloud through the eighth grade, he credited sisters, naming them by their religious names and remembering classroom locations, he said "It was our job to find the gifts we each bring to the world. If we couldn't find them, the Franciscan Sisters did it for us. And, then, they taught us to give our gifts freely to others." It was his Franciscan teachers who "gave us both roots and wings" and provided an environment where he belonged, was respected and treated with dignity.
In his book, he gives a "Nice bike" high-five to Sister Karen Niedzielski, the former Sister Roman and his second grade teacher, who accepted a drawing of his sore throat, placed it carefully inside her habit and, unbelievably, pulled that same drawing out for him – four years later. He mattered. He had dignity. Sister Karen let him know that with certainty. He credits three things – fire, wheel and smart phones – with helping people to connect. People sit and talk around a fire; people drive to be with others; people communicate on phones, if only secondary to being face to face. "The reason I love the Franciscan Sisters is because they are so present in the lives of others. It's never about them, always about you."
Pictured after the retreat are, from left, Sister Cordy Korkowski, Mark Scharenbroich and Mark's eighth grade teacher Sister Rose Margaret Schneider.