One and all are invited to participate in Clare's Well annual spring work day: SATURDAY, MAY 17, 2014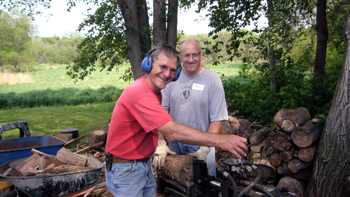 Come rain or shine, you always get needed tasks completed no matter the weather. A farmer friend recently suggested that Clare's Well sponsor some event in August when the farmers need rain because our events so often bring rain! We haven't cancelled in 25 years.
We begin at 9:00 a.m. with a break for a great lunch at noon. Stay as long or short a time as you wish. Children are welcome. We usually finish by 3:00 or 4:00 p.m. with cleaning the hermitages and Wellness Center; gardening as permitted; splitting, chain-sawing, hauling wood; painting or repair and a long list of other tasks.
Please let us know if you are coming. If you want to come but this day isn't convenient, please call 320-274-3512 to arrange another.
Clare's Well is located at: 13537 47th Street NW,Annandale, MN 55302