Jeff Odendahl, JPIC and Earth Charter member
On April 27, seven people were honored as Franciscan Earth Citizens during the Spring Chorale Concert at St. Francis Convent.
Sister Ange Mayers
From Sister Ange's years of living and serving with the Tohono O'odham Nation of Arizona, she lived in kinship with all of the earth community and her peoples. "She embodies the Earth Charter principles in her day-to-day choices," according to her housemates Sisters Rose Mae Rausch and Michelle L'Allier.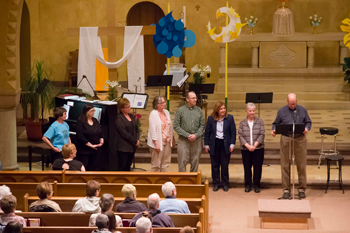 Sister Ange is careful with food—how it is purchased and prepared, creatively using what is donated or left over so that nothing is wasted. She composts food scraps and recycles all that can be reused, she cares for and repairs household items, her cleaning products are all-natural, she coordinates and minimizes car trips and she lives consciously to preserve the environment.
According to Pat Schlauderaff who manages the Franciscan Community Volunteer (FCV) program, "Sister Ange constantly teaches with words and actions. As a result, we are more aware of composting, recycling, driving less and walking more, using fewer chemicals, making informed choices and learning more about how to make earth-friendly choices."
One of the FCV volunteers said, "I thought I was really good at being earth-conscious. Then I met Sister Ange."
Sister Tonie Rausch and Brianda Cediel
Collaborating to found Hands Across the World (HAW) in St. Cloud, Brianda Cediel and Sister Tonie Rausch welcome and support newly arrived refugees from around the world. The organization's staff teaches English and helps new arrivals with basic healthy living skills, banking, transportation, law enforcement, schools and their new community.
Sister Jan Kilian, who nominated the two, said, "Brianda and Sister Tonie have a commitment and compassion for refugees from around the world, especially from Africa. This work gives life and meaning to our the principles of the Earth Charter." Brianda is the executive director of HAW and Sister Tonie has since resigned from active work but remains committed to its mission.
She added, "Through personal experiences in war-torn countries, these new arrivals are aware of the damage done to the earth, our environment and the need to make peace for the sake of our planet and all its people."
Robyn Gray and Anne Heisick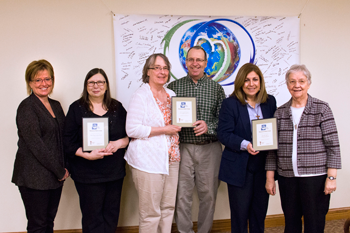 Both Franciscan Associates and employees of the Franciscan Sisters, Robyn Gray and Anne Heisick have been active on the Campus Green Committee and major organizers of the annual Green Fair Folk Festival (GFFF).
Robyn is director of the St. Francis Music Center where all people are "treated with respect and encouraged to grow as active participants in community life." Robyn represents the four major principles of the Earth Charter and has a gentle spirit as she helps countless youth and adults develop the music already within them.
Anne is not one to sit idly at meetings; she works hard to implement goals and plans for the Green Fair Folk Festival. She collaborates with vendors and looks for avenues to educate others about the care of the earth. Last year she brought in a horse team and wagon to tour the convent grounds which brought attention to the community gardens.
With her love for horses and nature, Anne knows that it's vitally important to maintain our habitats, woodlands and forests. When she camps, she keeps care of the land in the forefront and encourages her friends to do so as well. She has a passion and commitment for upcycling and recycling, peace, tolerance and non-violence. She treats all with respect and her kindnesses shine in quiet, unassuming ways.
Jane and John Merdan
Dairy farmers near Avon for 38 years, Jane and John Merdan were awarded the Avon Hills Lifetime Initiative for dedication to land preservation and wildlife habitat improvement. They directed the water drainage on their farm to ponds for wildlife nesting and protection, with help from the Natural Resources Department. They also use fallen wood on their property to heat their home and, thus, limit their use of fossil fuels.
"John was recently reelected to the Midwest Dairy Farm Board to which part of their milk check goes to projects like saving whey from dumping to using it as a bi-product for protein and sending dairy surplus to international countries," according to Franciscan Associate Connie Lacher.
Jane, a Franciscan Associate, starts her own vegetable and flower seeds and runs a small floral business in addition to volunteering with the local food shelf, working as a township judge for local elections, serving as a master gardener and participating in her Avon parish. Jane and John both have a gentle way of witnessing their love and respect for the earth and its people. They do all they can to help Mother Earth be a healthy place for future generations.