Elizabeth Rydeen, CRD
We welcomed Sister Albina Nanjala to the Motherhouse at Mass on April 11. Unlike recent visits from members of the Franciscan Sisters of St. Joseph – Asumbi, Kenya, she came as part of a delegation of 14 from the Homa Bay Diocese. After an orientation at the Spirituality Center at St. Ben's and the Chrism Mass, we served as her host during her stay. Other delegates were hosted by parishes throughout the St. Cloud Diocese.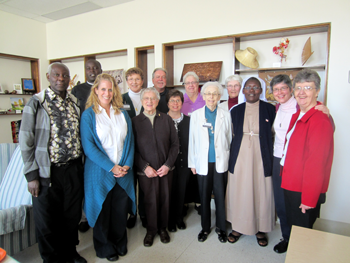 While the weather curbed some of the activities planned for Sister Albina, her schedule was still quite full. (You may remember that last year Sisters Margaret Aringo and Mary Irene Chebii experienced a healthy April snowstorm as well.) Sister Albina visited the Welcoming House and Sabbath House on her way to a gospel mass at St. Peter Claver Church in Minneapolis. At Sabbath House she joined in a monthly gathering of Franciscan Sisters and Associates. She said, "It was beautiful to see people coming together to share their faith." The concept of the Associate Relationship is new to her and is something she will take back to her community. She toured the campus grounds (before the snowstorm), the Little Falls dam and the cabin at Belle Prairie. She fed cows at a local farm, shared a Mexican meal with Associate Betty Pasela, and even tasted Minnesota's own green bean hot dish.
Sisters and employees gathered to honor Sister Albina which was complete with Kenyan tea and mandazi, which is basically fried bread dough dipped in sugar. Sister Bea Eichten presented Sister Albina with a large print of the San Damiano Cross. As she addressed the group, Sister Albina was grateful for the opportunity to be part of the delegation and to spend time with the sisters in Little Falls. She is most impressed by the level of activity by our retired sisters, noting: "These sisters are retired, but not tired." Her eyes grew big when she learned the ages of many of our sisters. Very few Kenyans, including the sisters, live to their nineties. She wants to say to her sisters back home, "Get up and move!" Her time in Clare Residence and Angela Community was heartwarming as she witnessed the love and care extended to our elderly sisters.
Sister Albina spent a quiet Easter weekend with the sisters on campus after a mishap on Holy Thursday when she fell outside of St. Mary's Church and suffered a broken ankle. She received a cast on Monday morning and then went to St. Ben's for a closing retreat. She left for Kenya on Tuesday with the rest of the delegation.
Many thanks to all the sisters and staff who made Sister Albina's visit such a worthwhile experience. She's very grateful to the sisters and Clare Residence staff who cared for her after her accident. Please continue to keep Sister Albina and the FSJ community in prayer.
Visit our Facebook page to see more photos from Sister Albina's visit.