Elizabeth Rydeen, CRD
In 1995, the Holy Ghost Father opened Engikaret Pre-form One Secondary School to serve Maasai students in Arusha, Tanzania. The school started as a preparatory school so that more Maasai youth could qualify for high school.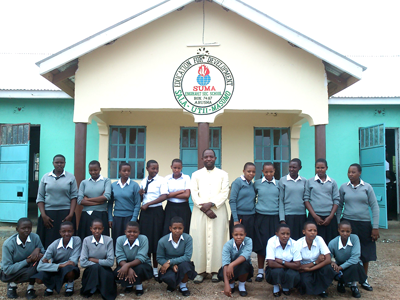 Sister Tonie Rausch, who sponsored the application, taught at Engikaret and for a time served as its director. She remembers her first year when she taught 105 students all in one classroom. When she became director, she managed to split the group into two classrooms. "The other teachers just couldn't figure out why I would want to teach the same class twice when you could have all of them in one class and teach the material just once!" she recalled.
As the school became more well-known and developed a good reputation, more girls were applying for entrance. Housing the increasing number of female students posed a challenge. A One-World Mission grant of $3,000 helped construct and furnish a dormitory to accommodate 50 girls. Housing the girls in a secure environment is one way they can avoid early marriage and concentrate on their studies.
In her letter of support, Sister Tonie said, "This project will provide necessary physical improvements to assure the continued progress in a very needy area—educationally and spiritually—in a mission site served by our own sisters in collaboration with the Spiritan Fathers.