Elizabeth Rydeen, CRD
Fourteen delegates from the Homa Bay Diocese in Kenya will arrive in Minnesota April 9. Among the group is Sister Albina Nanjala, a Franciscan Sister of St. Joseph, who will be with us here on campus as well as visiting a variety of homes and ministries from the evening of April 10 through Easter Sunday. She'll be staying with the group at Mary Hall, Third Floor.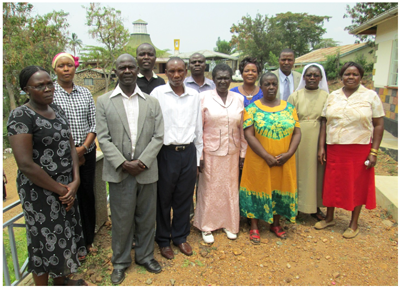 Sister Albina, who serves on her community's General Council, visited Little Falls briefly in 2008, but did not have a chance to get acquainted with many of our sisters. We're excited to welcome her again and for the opportunity to nurture the partnership we share between our two communities.
A gathering will be held in the Dining Room on Tuesday, April 15, at 2 p.m. to meet and welcome Sister Albina. All sisters, associates, employees and the public are invited to attend.
The other delegates will be staying with host families from various parishes throughout the St. Cloud Diocese. Anyone interested in welcoming the full delegation is invited to a reception following the 7 p.m. Chrism Mass on April 10 at St. Mary's Cathedral in St. Cloud. Another option for participation in the diocesan partnership is with the farewell celebration for the delegation. This will be a potluck held at the Spanier farm in Belgrade on Monday, April 21, from 5-7 pm. For further information, contact Liz Rydeen at (320)632-0624.
We have been in a sister community partnership with the Franciscan Sisters of St. Joseph of Asumbi, Kenya, since 2004; this is our 10th anniversary of relationship. Please welcome Sister Albina and any other delegates you may meet during their stay in the St. Cloud Diocese.