The One-World Mission Grant Fund helped 25 indigenous Aymara children from the Bolivian Altiplano with uniforms, food and school supplies,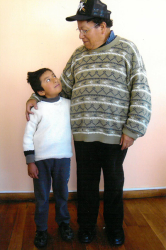 enabling them to attend primary school. Poverty prevents many children from receiving an education because families cannot provide the required uniforms and school supplies. The grant also helped upgrade the kindergarten with new plastic chairs, a little layhouse and educational games.
Sister Adela Gross Sister Adela Gross submitted the OWM request on behalf of Father Julio Rojas, a Bolivian priest who was a seminarian when the Franciscan Sisters ministered in the altiplano in Peru. Sister Ramona Johnson supported him during his seminary days. "This is a way of continuing our ministry in a part of the world we were once actively involved," Sister Adela said.
Father Julio wants the sisters to know how grateful he is for the grant to help the children, the little ones, of his poor parish in Bolivia. He sent the following message on receiving news of the death of Sister Kizzie Ohmann: "I frequently remember Sister Elizabeth in my masses and I ask that she be our intercessor with God. Together with Sister Ramona Johnson, she helped me very much."