Sister Mary Celine (Mathilda) Jonas, 95, died on February 28, 2014, at St. Francis Convent, Little Falls, Minn.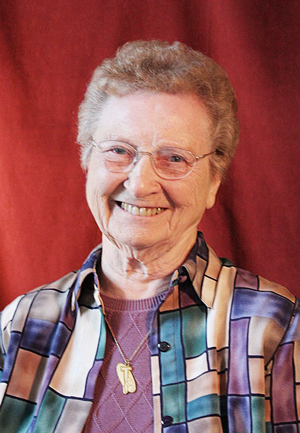 Sister Celine was born on March 29, 1918, in St. Martin, Minn. She was the last of 16 children born to the late Anton and Mary (Ohmann) Jonas. She was accepted as a Franciscan Sister on August 12, 1940. She made first profession of vows on August 12, 1942, and final vows on August 12, 1945. She was a Franciscan Sister for 73 years.
Sister Celine was a quiet, contemplative person who was gracious and hospitable, she had a good sense of humor and loved to hear or tell jokes. Watching the Minnesota Twins play baseball was a favorite for her. She loved creation in all its beauty and diversity. Every autumn, nieces of the Bruettner family would take Sister Celine to their cabin. During this time, she would observe all the animals as they prepared for winter. She knew the names of all the animals and birds. Bird watching was always very special to her.
Among her many talents and skills were those of cooking, baking, decorating cakes and cookies and needle work. Many sets of her embroidered dishtowels were sold in the Franciscan Gift Shop. She even learned to prepare and preserve cattails. Early in her life she learned how to identify edible mushrooms; many of us were guests when she served delicious fried mushrooms. For years, Sister Celine would help to decorate hundreds of cookies at the convent for the holidays such as Christmas, Easter and Halloween.
Sister Celine studied to become a certified nursing assistant and physical therapy aide at St. Thomas University, St. Paul. She served in health care in various nursing homes and hospitals of our Franciscan Community.
Spending time with her family was very important to Sister Celine. Her nieces and nephews and other family members loved spending time with her. Sister Celine was preceded in death by siblings: John, Mathias, Gertrude, Mary, Agnes Rausch, Frank, Peter, Albert, Alvina Rausch, Ann Schwagel, Madalyn Buettner, Mary Ann Rausch, Nickolas and Bridget. Survivors include her sister Hildegard Ricker, Albany; nieces, nephews and her Franciscan Community.
A Mass of Christian Burial will take place at St. Francis Convent on Tuesday, March 4, at 11 a.m. Friends may call at St. Francis Convent on Monday, March 3, from 4-8:30 p.m., with a Franciscan prayer service at 7 p.m. and from 8:30 a.m. until the time of the funeral on March 4, at 11 a.m. Arrangements are by Emblom Brenny Funeral Service, Little Falls.
Donations to Franciscan Sisters Ministries preferred.