Kristen Wall, Franciscan Community Volunteer
"It must be nice to live in a country where no one is homeless," mused a fellow musician and client at the homeless shelter where I worked in Hungary last year. I'm not sure that my clumsy attempt at a counterargument in Hungarian convinced him otherwise. Fortunately or unfortunately, from this side of the Atlantic, the realities of homelessness in the United States are pretty clear, even if most often we would rather look the other way. On December 19, 2013, FCV volunteers and staff took part in the Homeless Memorial March in downtown Minneapolis. The event served as a memorial for over 150 people who were either homeless, formerly-homeless or advocates for the homeless across Minnesota and died in the past year. Sadly there are probably many more individuals who never received a funeral whose names were not recorded at this event.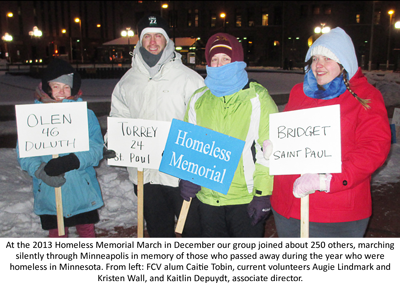 The march followed a route that would almost certainly be familiar to someone experiencing homelessness in Minneapolis, beginning at the government center and continuing down Nicolette Avenue all the way to Simpson Housing and the United Methodist Church. The contrasts were stark as we passed towering skyscrapers, corporate and executive headquarters, festively decorated shopping centers, and the well-illuminated route of the weekend Holidazzle parades, all the while feeling very small. Each participant carried a sign with the name and hometown of an individual being remembered.
We were asked to process in respectful silence. It was almost eerie at first as we waited to cross the street, hearing only the clanging of flags against their flagpoles in the wind. Silence allowed us to notice these things, as well as hear the voices of those who have actually experienced homelessness along the route. Some were understandably angry at our experience that only lasted a couple of hours, dressed up in layers upon layers of high-quality clothing that is cost prohibitive for many. Others smiled and gave a simple "thank you," while still others pronounced blessings. The voice that struck me the most, though, was the first to punctuate our silent march. In a loud voice he cried out, "You need to make your voices heard loud and clear! Too many children are homeless! Too many immigrants are homeless!" Not knowing how far his voice would carry, this man boldly witnessed to the social injustice he saw.
The reasons for the existence of homelessness in our society are many and complex. Good choices are not always made at the many liquor stores we passed along the route, but unjust systems in which we all play a role, if only passively, are also to blame. It was telling that the vast majority of the marchers were white while homelessness in Minnesota disproportionately affects people of color. Historical and present racial prejudices have an impact. Broken family systems, stigma and untreated mental illness, insufficient educational attainment, expensive health care, unfair wages and many other manifestations of systematic injustice are also involved.
We, like Isaiah, are called to "Cry out!" and to "Lift up [our] voices with strength" (Isaiah 40:6, 9). We must put words to the injustices we see, words that might influence those in power to enact change, and we must pronounce messages of encouragement and hope to those searching for a God who "gives strength to the weary and increases the power of the weak" (Isaiah 40:29). May our hearts be opened to seeing injustice in our world, our minds strengthened to discern wise courses of action, and our feet emboldened to walk in the ways of solidarity and peace.