Deanna Boone, CRD
The annual Employee Appreciation dinner was held on Thursday evening, January 30. Many of the 149 employees and their spouses or guests were present for the occasion.
The theme of the evening was a combination of the Oscars, the Academy Awards and the Grammys. Each employee was treated like a super star as they walked down the red carpet and welcomed by the paparazzi! Sisters Rose Margaret Schnieder and Elise Saggau emceed the program and entertainment was provided by a return performance by the "Franciscan Blend."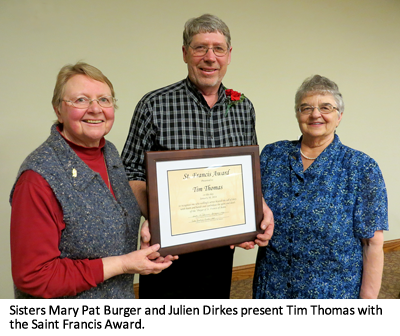 The highlight of the evening was the presentation of the Saint Francis Award. Sister Mary Pat Burger, executive director of ministries and services, said, "Each year the employees and sisters nominate a person for this annual award. The person they choose manifests our Franciscan values in the way they carry out their work with us.
"The values embody respect, meaning we treat each other and all of God's creation with dignity, justice and reverence; open communication, where we encourage people to express their ideas and feelings in ways that are clear, honest and direct; hospitality, where we create a comfortable, respectful environment in which people feel welcome, safe and valued; and compassion, in which we weave genuine concern and care into our interactions and seek to work together with flexibility and fairness, creating a supportive environment for all."
Tim Thomas, who works in the maintenance department, is the Saint Francis Award recipient for 2013. "The nominations described Tim as gracious, gentle, generous, ready and willing to help anyone at any time in a friendly, cheerful manner. Even on heavy work days, he pays attention to each individual, prioritizing things that need to get done while assuring others that their project will not be neglected."
Employed with the Franciscan Sisters since April 2006, Thomas said, "No two days are alike, every day is different. When something is in need of repair, I do my best to take care of it and I work to keep the pool clean and operating smoothly."
He added, "Over the years, I've developed relationships with the sisters and their gratitude for what we do is overwhelming. I know there are many employees deserving of this award and I am honored to have been chosen."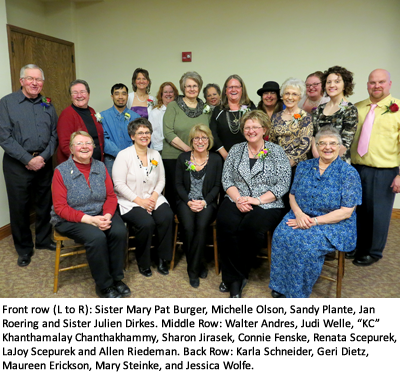 Eighteen employees were recognized for their years of service: 35 years – Jan Roering, Community Relations; 30 years – Sandy Plante, Finance; 20 years – Michelle Olson, Clare Residence; 15 years – Walter Andres, Environmental Services; Sharon Jirasek, Clare Residence; Judi Welle, Archives; 10 years – Connie Fenske, Community Relations; Allen Riedeman, Environmental Services; LaJoy Scepurek, Receptionist; and Renata Scepurek, Receptionist; and 5 years – "KC" Khanthamalay Chanthakhammy, Nutrition Services; Geri Dietz, Associates; Maureen Erickson, St. Francis Health & Recreation Center; Karla Schneider, Clare Residence; Karen Simon, Environmental Services; Luann Steidl, Clare Residence; Mary Steinke, Nutrition Services; and Jessica Wolfe, Clare Residence.