Joan Wingert, Secretary to the Associates
Sister Helen Hassler's favorite story is of Saint Francis in San Damiano: "...an inner voice bade him go in and pray. He obeyed, and kneeling before an image of the crucified Savior, he began to pray most devoutly.A tender, compassionate voice then spoke to him: 'Francis, do you not see that my house is falling into ruin? Go, and repair it for me.'... He had understood that the Lord was speaking of that very church which, on account of its age, was indeed falling into ruin…."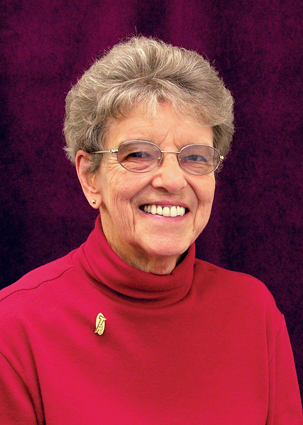 "It's a story of Francis trying to discover what he is meant to do. At first he takes the request literally. By gradual exposure and awakening, it grew in meaning over the years."
"Gradual exposure and awakening" is an apt description of Sister Helen's own life journey. Her first contact with the Franciscan Sisters was in their Perham, Minn., hospital when she had an appendectomy at age eight.
She joined the Franciscans in January of her first year of nursing school. After initial formation, she completed her studies to be a licensed RN and worked for 17 years in hospitals in Minnesota and Wisconsin.
In 1972, while earning a bachelor's degree in nursing, Sister Helen made a 30-day Ignatian retreat. "It was this opportunity to come into a deeper relationship with Jesus Christ through prayer and Scripture, and to become more conscious of the interior life, that was the turning point in my life." She now sought and earned a master's degree in biblical studies. All of this prepared her for an unexpected role: Community Leadership.
She went on sabbatical after four years in Leadership. In 1980, she felt she was led to study psychology. In 1981 she earned a master's in sacred theology, and in 1991 Sister Helen was certified as a pastoral counselor. She did pastoral counseling ministry, incorporating both psychology and theology, until 2007.
I asked Sister Helen why this story of Francis was so important to her. "It's a story about first fervor moving to deeper meaning.
"I feel our lives are a process of continual conversion. We redefine ourselves all through life, and learn to see possibilities along with limitations. Like it says in Ephesians 4:13: '...until we all reach unity in the faith and in the knowledge of the Son of God and become mature, attaining to the whole measure of the fullness of Christ.'
"Thank you, Sister Helen, for sharing this insight of Saint Francis. Like him, you listened to the voice calling you. In the course of rebuilding the church of your life, you searched for and selected "stones" that helped you understand the deeper meaning of that call. You invite us to be patient when we feel our life's path is straight only in the eyes of God.