Sister Elizabeth Ohmann, 80, died on January 12, 2014, at St. Francis Convent, Little Falls, Minn.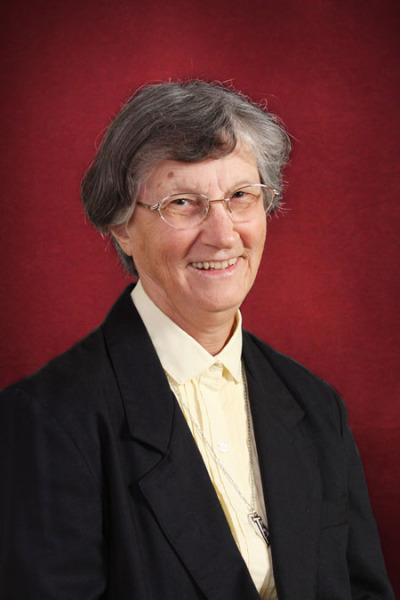 Sister Elizabeth was born on March 9, 1933, in Melrose, Minn. She was the seventh of eight children born to the late John and Elizabeth (Feneis) Ohmann. She was accepted as a Franciscan Sister of Little Falls, Minn., on July 31, 1951. She made her first profession of vows on August 12, 1953, and final vows on August 12, 1956. She was a Franciscan Sister for 62 years.

Sister Elizabeth (or Sister Kizzie, as she was affectionately known) had a creative mind, innovative spirit and a compassionate heart, all of which she utilized in her varied ministries. As an elementary teacher, she was called on to reach out to students with special needs whose unique gifts and talents she helped to discover. Inspired by the example of her brother, Maryknoll Father Dan Ohmann, she volunteered to serve in Peru. Her focus there was improving the lives of the poor in the Altiplano. She studied and learned the Aymara language in order to reach the women, most of whom did not speak Spanish. Returning to the United States, she served in administration at the Motherhouse. There, her concern centered on the needs of the elderly and infirm sisters.

As an educator, organizer and activist with Border-Links and Humane Borders in Tucson, Ariz., she used her gifts to ease the suffering of the migrants and to raise awareness of immigration policies that made it necessary for people to put themselves in life-threatening situations. Whether dealing with Border Patrol, judges, immigration officials or critics of the programs, she spoke with confidence and quiet strength. Sister Elizabeth was universally respected and loved by those whom she served and with whom she ministered. Humane Borders recognized her as Volunteer of the Decade in 2010.

Sister Elizabeth earned a Bachelor of Arts degree at the College of St. Catherine, St. Paul, Minn., and a Master of Arts degree in Christian Heritage from Maryknoll School of Theology, Maryknoll, N.Y. She also studied Spanish at Centro Interamericano, Ponce, Puerto Rico, and Aymara at Language School, Cochabamba, Bolivia.

Sister Elizabeth was very grateful for the opportunities received through her Franciscan Community. Family was very important to her and visits to and from siblings, nieces, nephew and others were highlights of her days.

Sister Elizabeth was preceded in death by siblings: Mabel Kraemer, Albert, Urban and Reuben. Survivors include John (Charlene), Greenwald; Reverend Daniel, Tanzania, East Africa; Janet (John) Haas, Tucson, Ariz.; sisters-in-law Erna, St. Paul, and Gloria, Pembina, N. Dak.; nieces, nephews and her Franciscan Community.
A Mass of Christian Burial will take place at St. Francis Convent on Monday, January 20, 2014, at 11 a.m. Friends may call at St. Francis Convent on Sunday, January 19, from 4-8:30 p.m., with a Franciscan prayer service at 7 p.m. and from 8:30 a.m. until the time of the funeral on January 20, at 11 a.m. Arrangements are by Emblom Brenny Funeral Service, Little Falls.
Donations to Franciscan Sisters Ministries preferred.